At the end of the day... you do you. When you are in front of the mirror you know what looks good and what doesn't. My biggest belief when it comes to fashion is that if you feel like you look good then you will feel overall more confident that day. I can tell you all the tips and tricks I want about dressing well but comfort is always important too. But with that in mind, let's talk about stripes.

You might have heard at one stage or another that you shouldn't wear horizontal stripes as they make you look wider. However an interesting discovery by Hermann von Helmholtz in 1867 suggests differently. He discovered that when 2 identical squares are placed next to each other, one with horizontal lines and one with vertical lines, that the square with horizontal lines actually looks taller.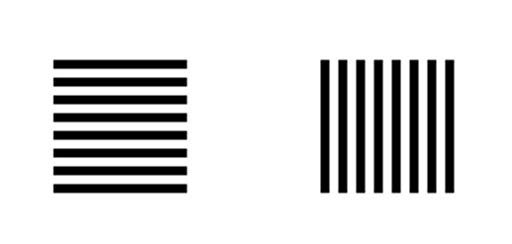 However the common myth surrounding fashion and stripes continued to circulate.
Helmholtz was an illusionist and not an expert in fashion. In 2011 an experiment was conducted to show that Helmholtz was in fact correct regarding human figures. However in 2012 a more in depth experiment was done by scientist Val Watham in the United Kingdom. This experiment used a wider variety of models. From all shapes, sizes and ages. And the results found that it just was not as simple to say whether one pattern makes you appear thinner than the other and there are simply more factors to consider.
I was keen to know specifically why there are so many maternity clothes with horizontal stripes and so I set out to multiple different outlets to try and discover the truth.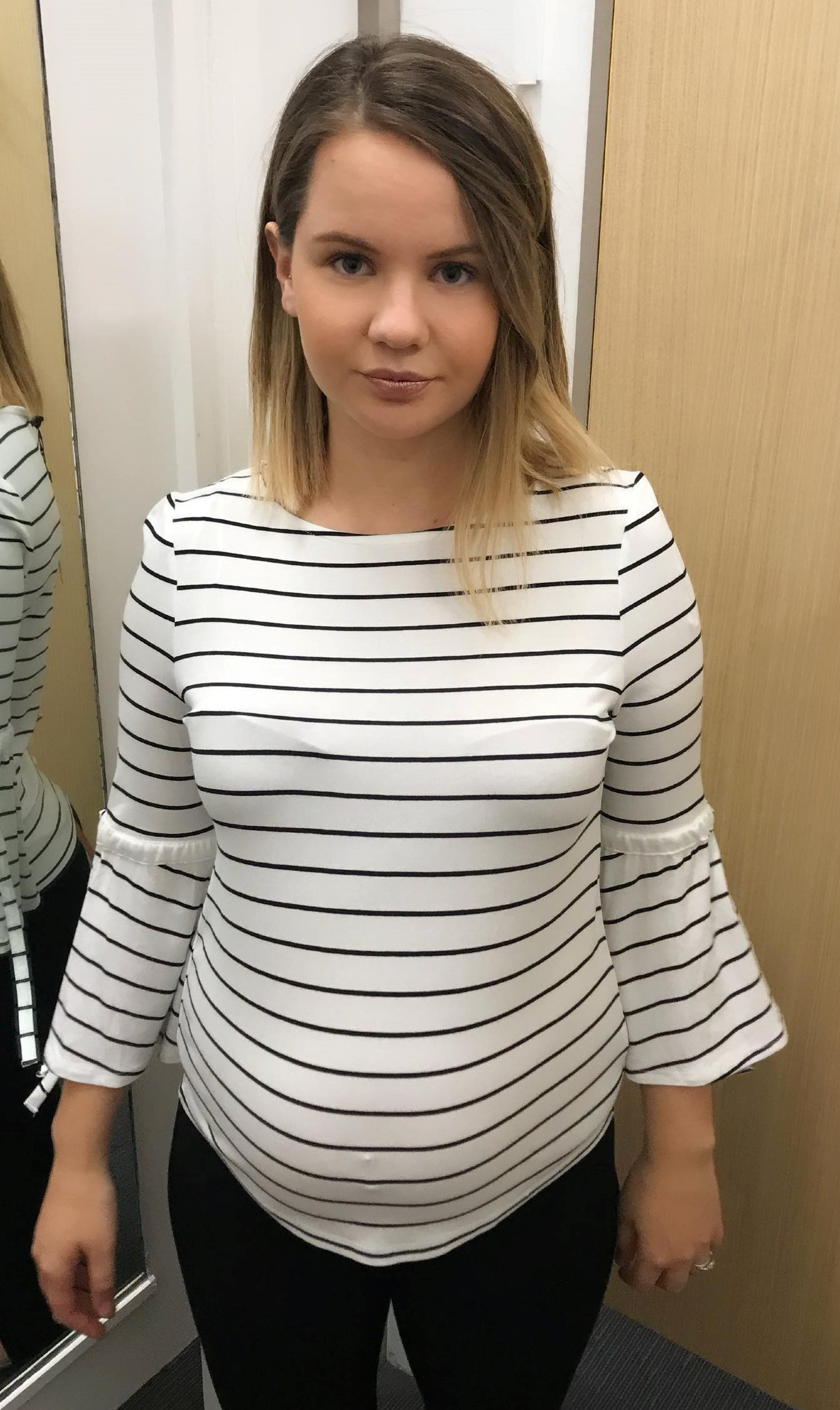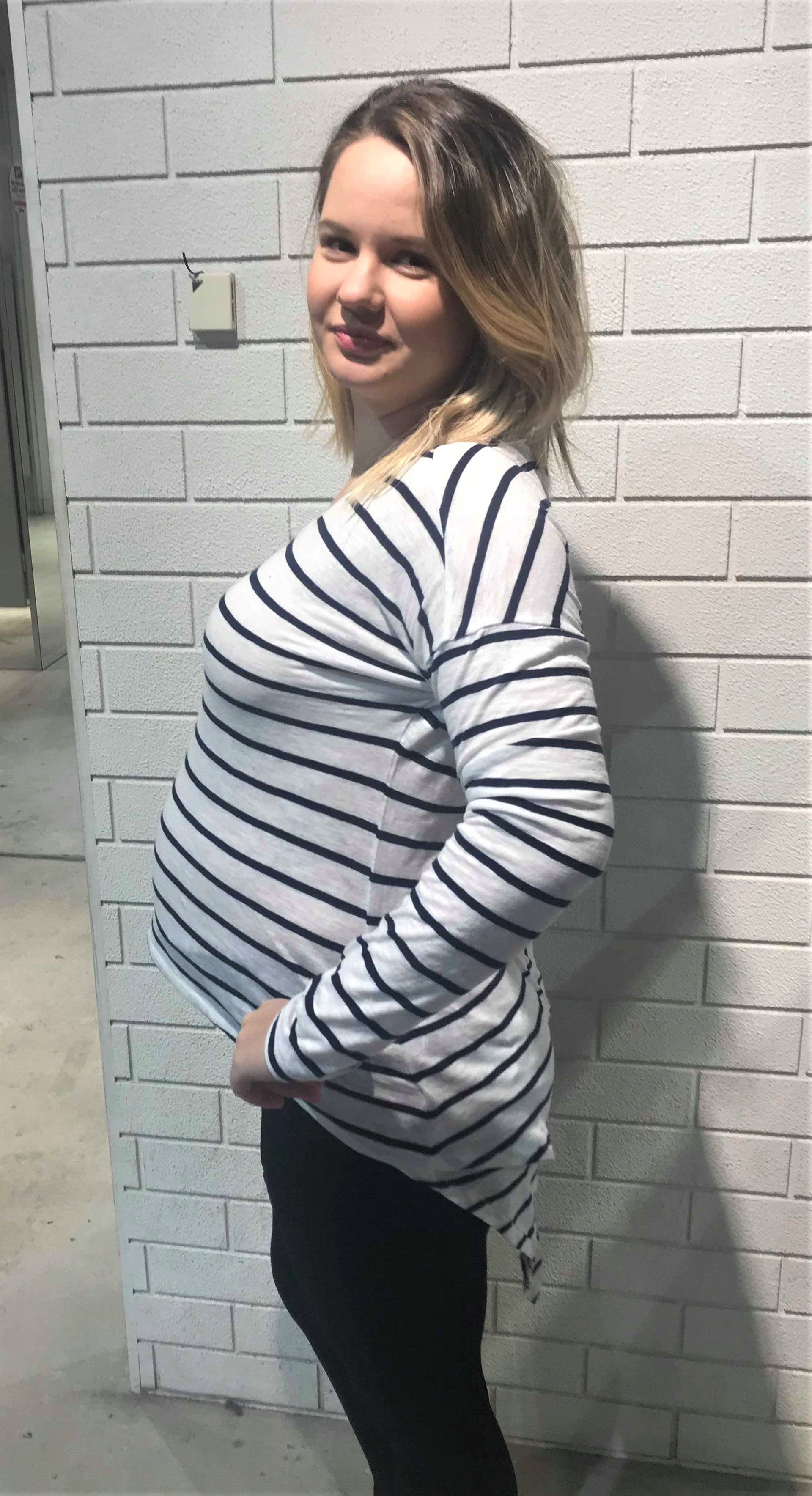 What I discovered about horizontal stripes is that in pregnancy they make you look round. Perhaps my hips look thinner and I look slightly taller. But I look altoghether round. And that continues at the back too. I want the look of a straight back and a nice rounded stomach. So for me this wasn't my look. Mind you none of the above are maternity. You can see due to this that the stripes are awkward. They tend to bend around my bump, this making it look like it's hanging lower than it is (see the photo on the left). 
There are times when horizontal can look great. For example, when you want to look more pregnant or when you want to show off your bump. Or maybe you're just entering the second trimester and you're feeling bloated rather than pregnant and you want that roundness. My discovery with horizontal stripes was that its best to buy maternity like below. However keep in mind sizing. Because the dress below is size 8, which was my size before pregnancy, but it was very loose as you can see around my hips.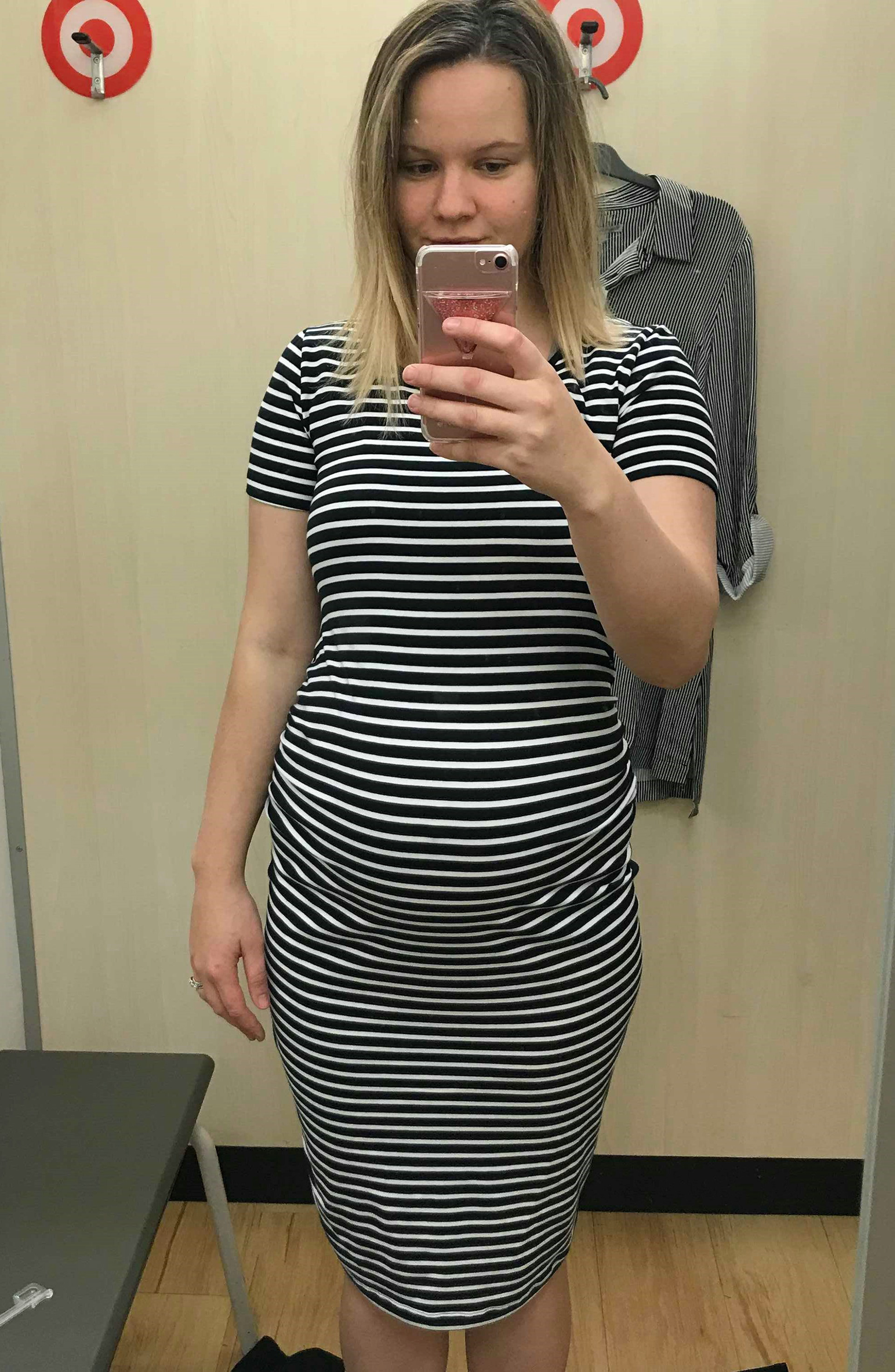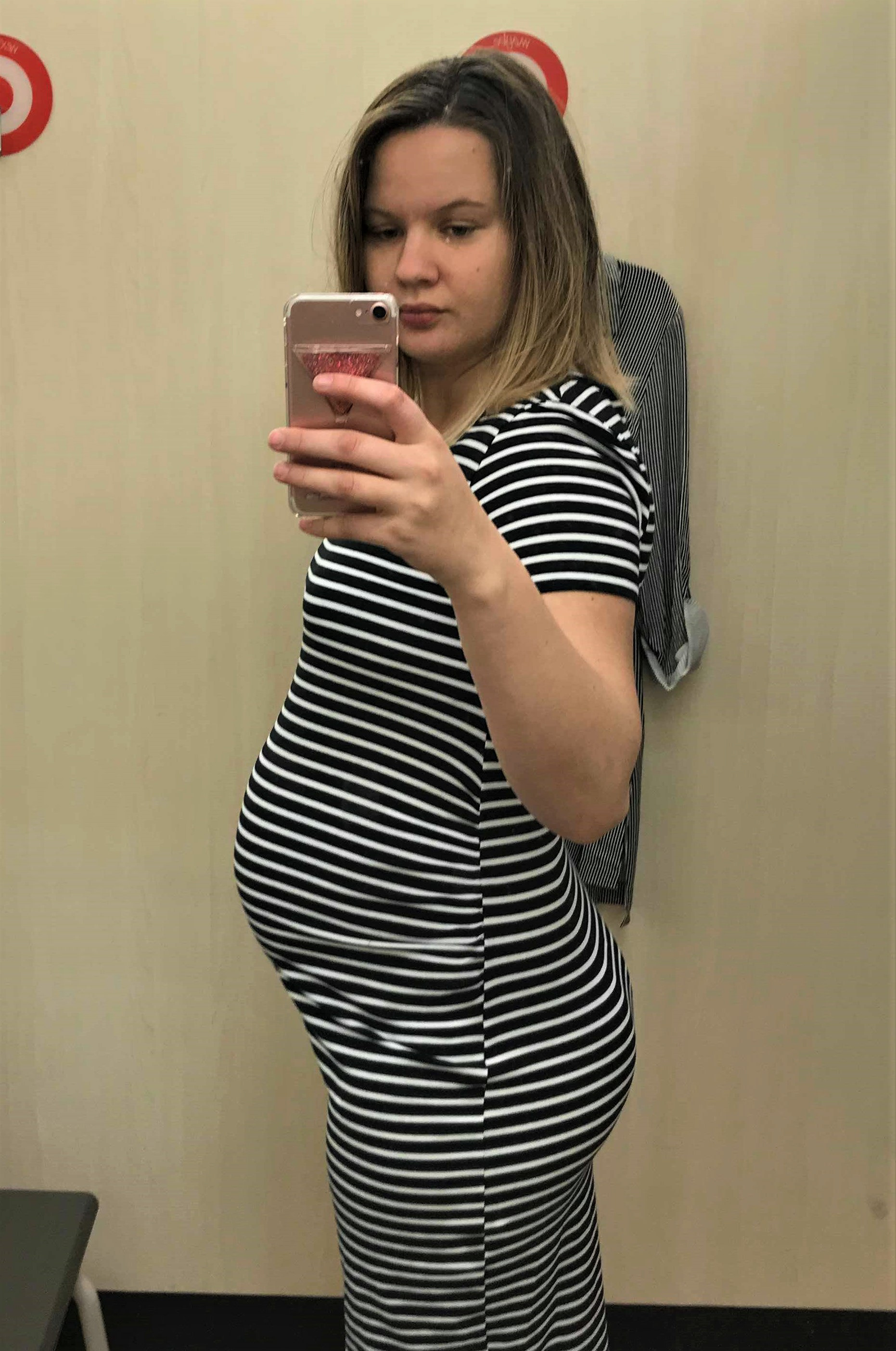 Again this illustrates that the bump appears to be sitting low but the side on photo shows you its not. I would definitely pair this with a tie around denim  or something like that. It looks weird on me, and the colours are so stark. But I do admit I felt taller.
However when it comes to horizontal stripes avoid anything that is too flowy or flowy in a weird way. See below.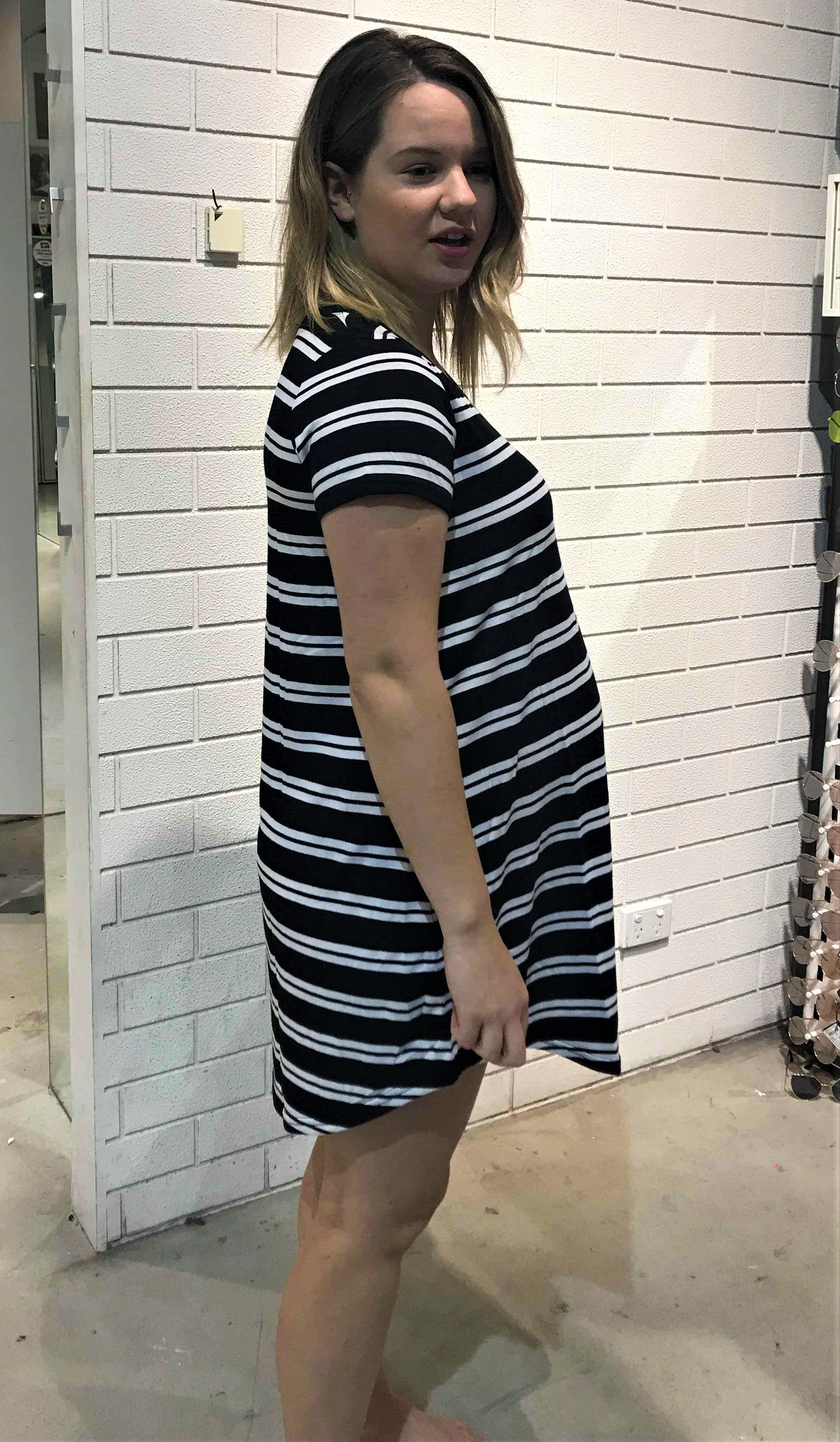 They either won't show your figure or will show it as weird. The photo on the left I look very top heavy, that's also due to the changing directions on the sleeves. The middle one was just weird. However that top would look amazing on someone who is super petite.. and not pregnant. The one on the right as you can see takes away any and all shape and did nothing for my height either. But to be honest it was super comfortable.
Notice also differences in colour and shape can draw focus to your face. For example below: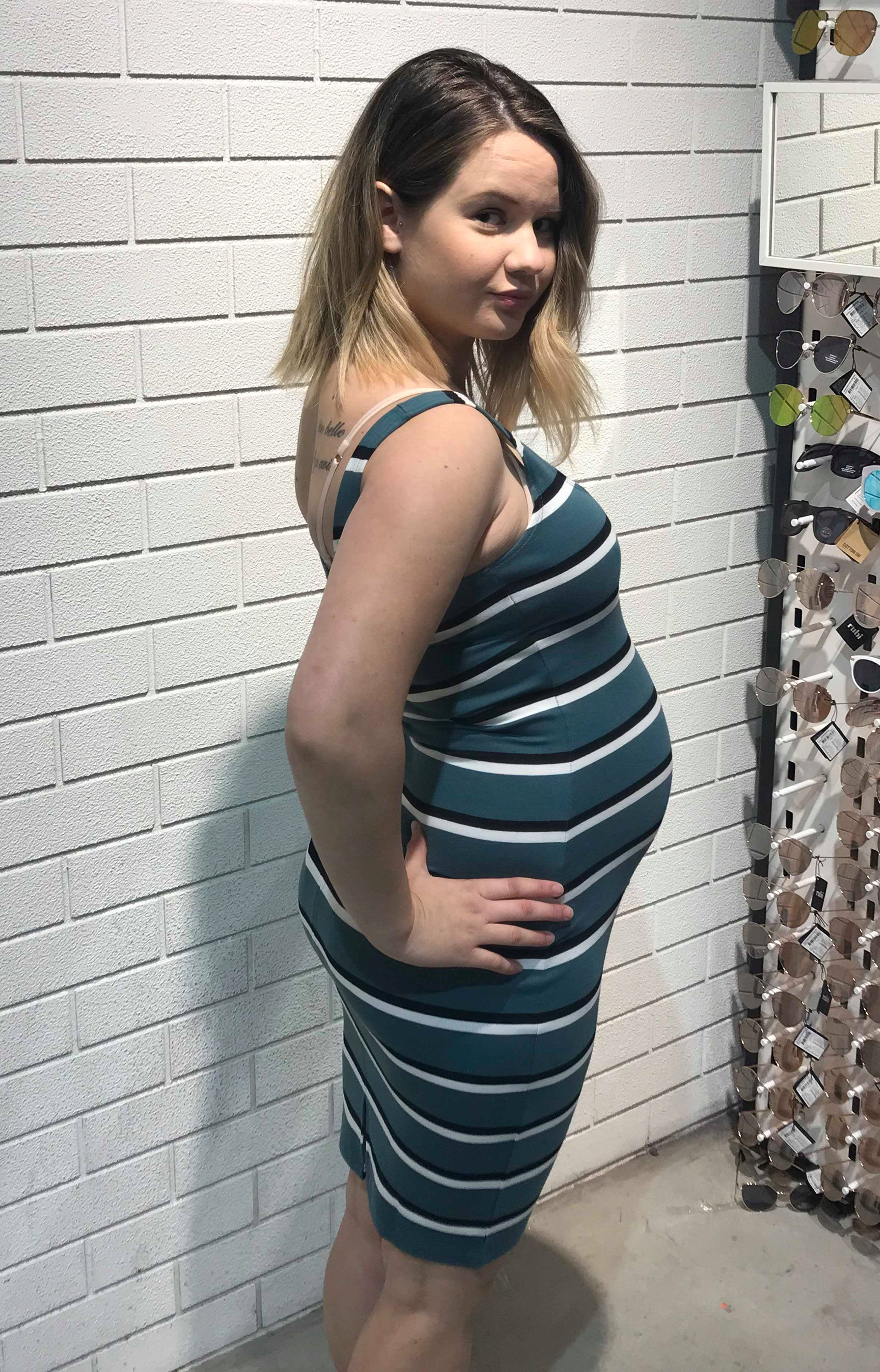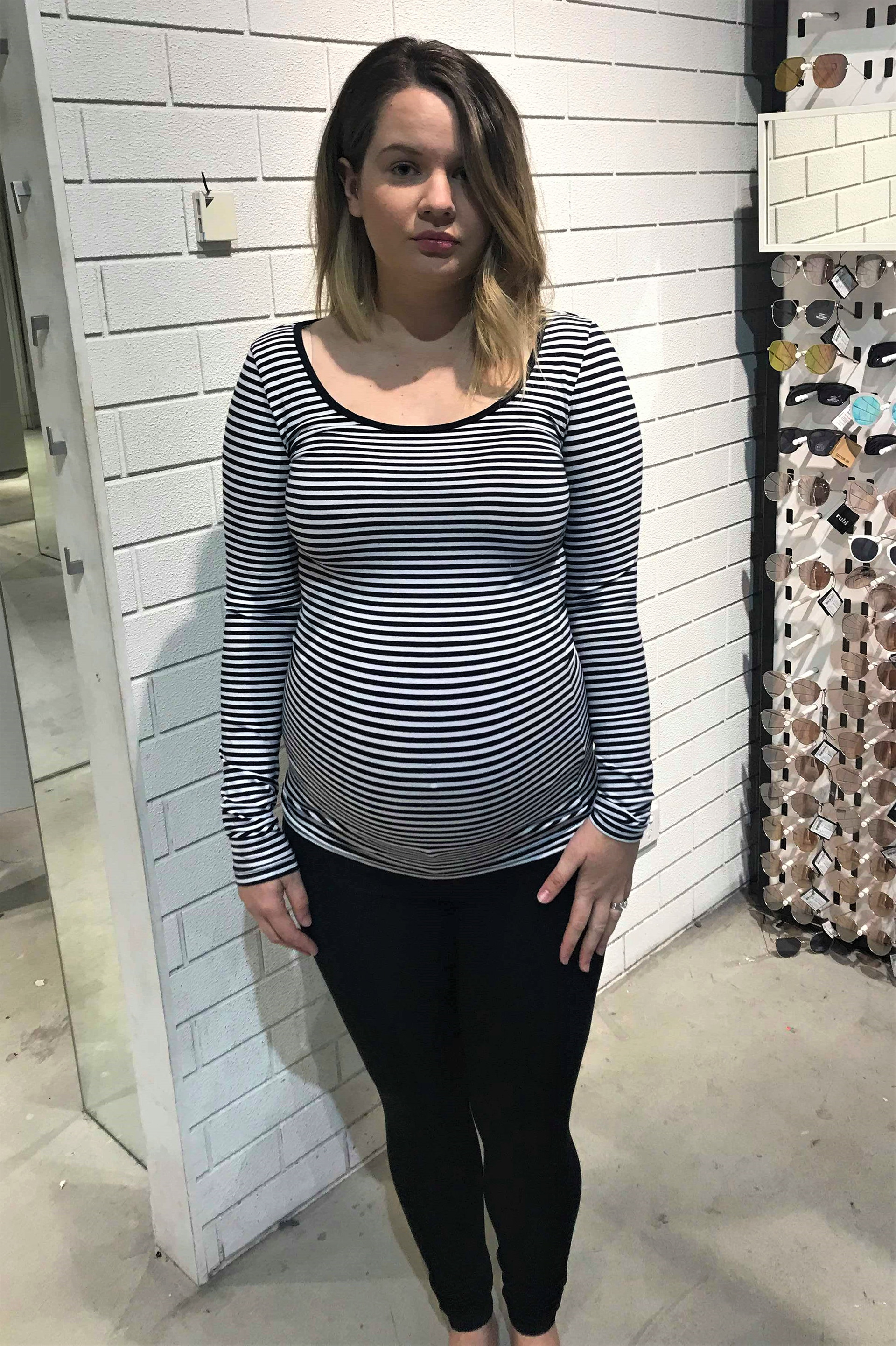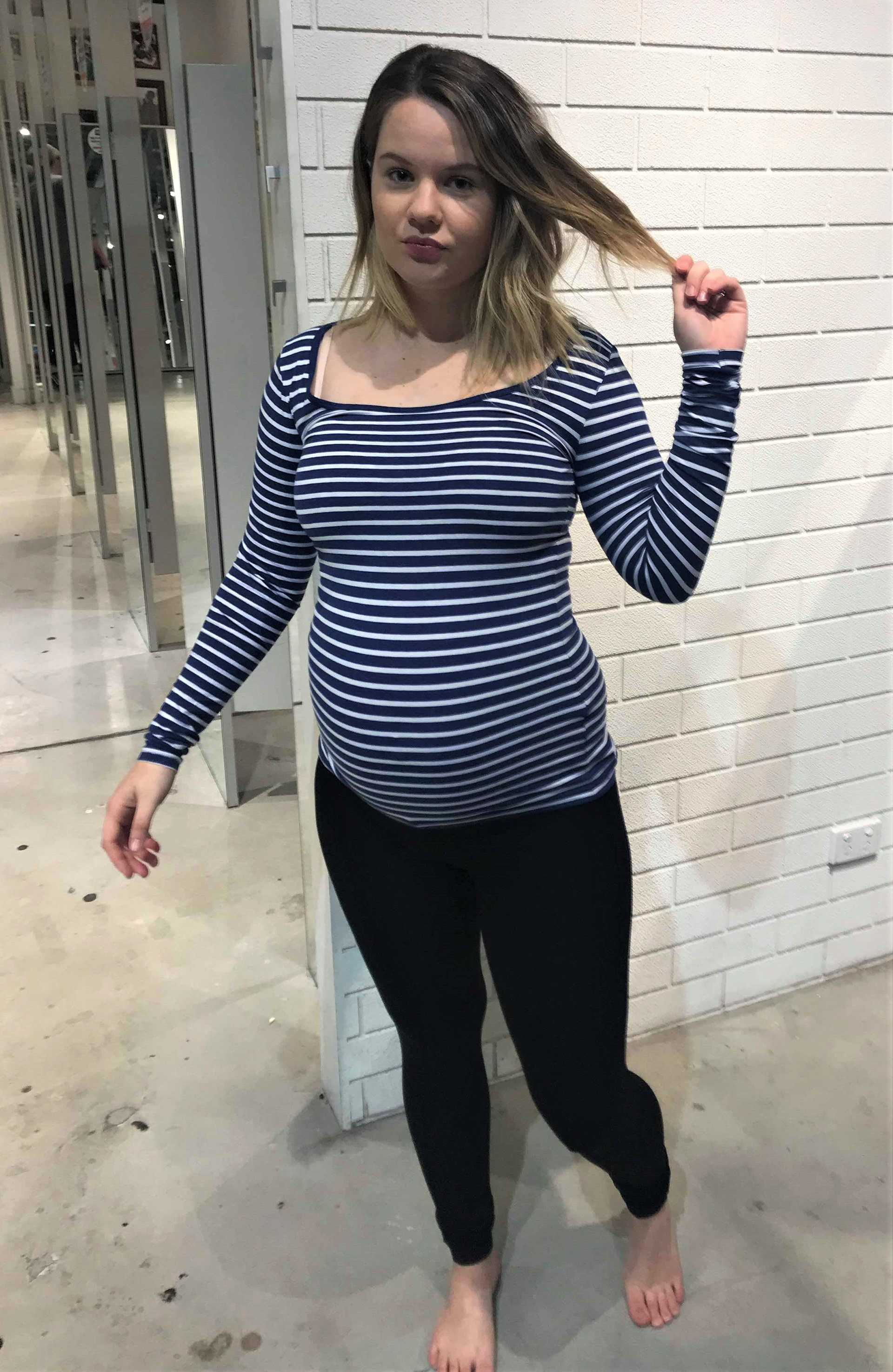 I felt like a where's wally character in all these stripes. But as you can see colour makes all the difference. You can always wear the colour of your eyes and it will give you more interest. Wearing a colour that compliments your skin tone is always going to make a huge difference in your overall look.
Now lets have a look at vertical stripes.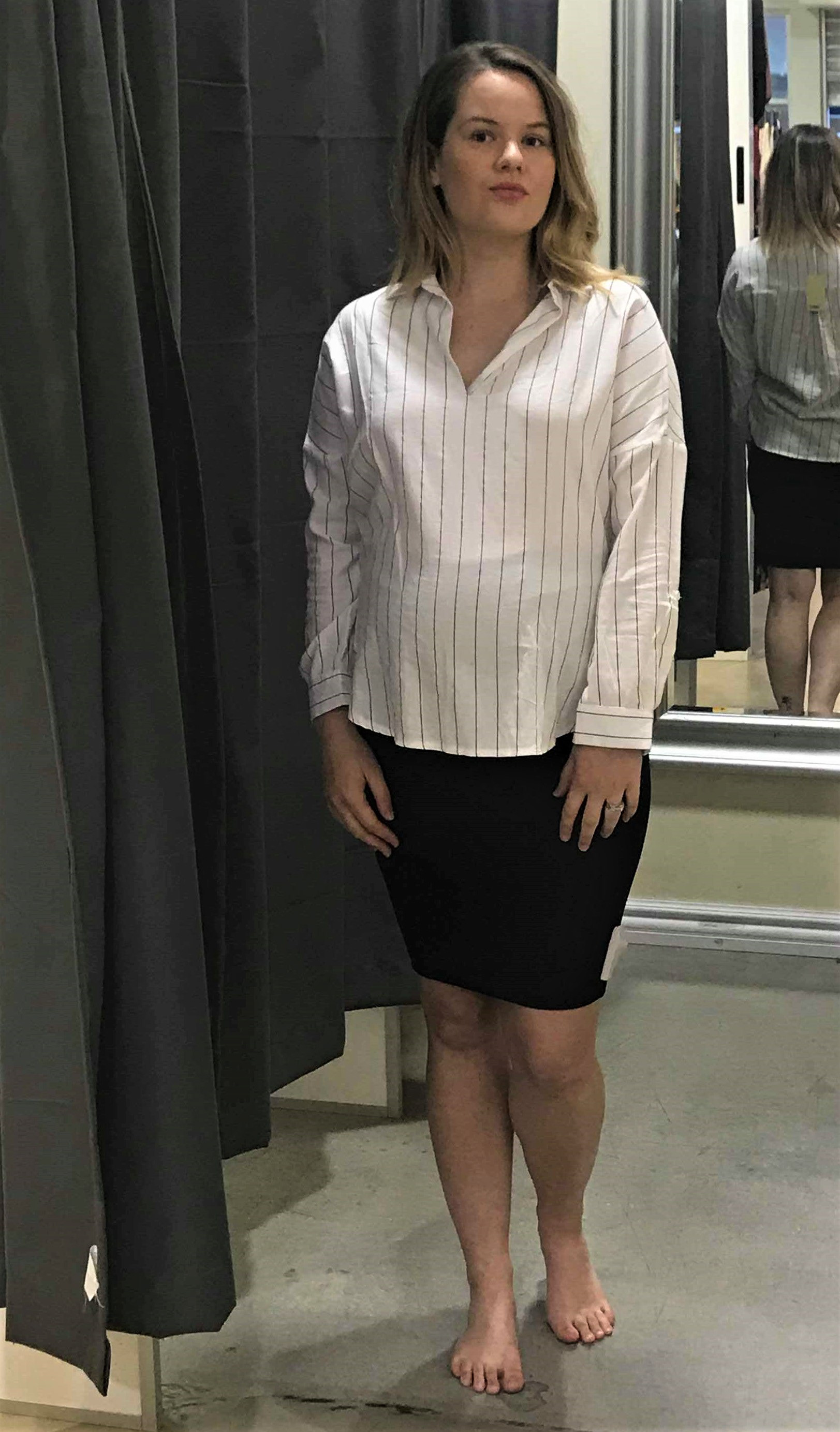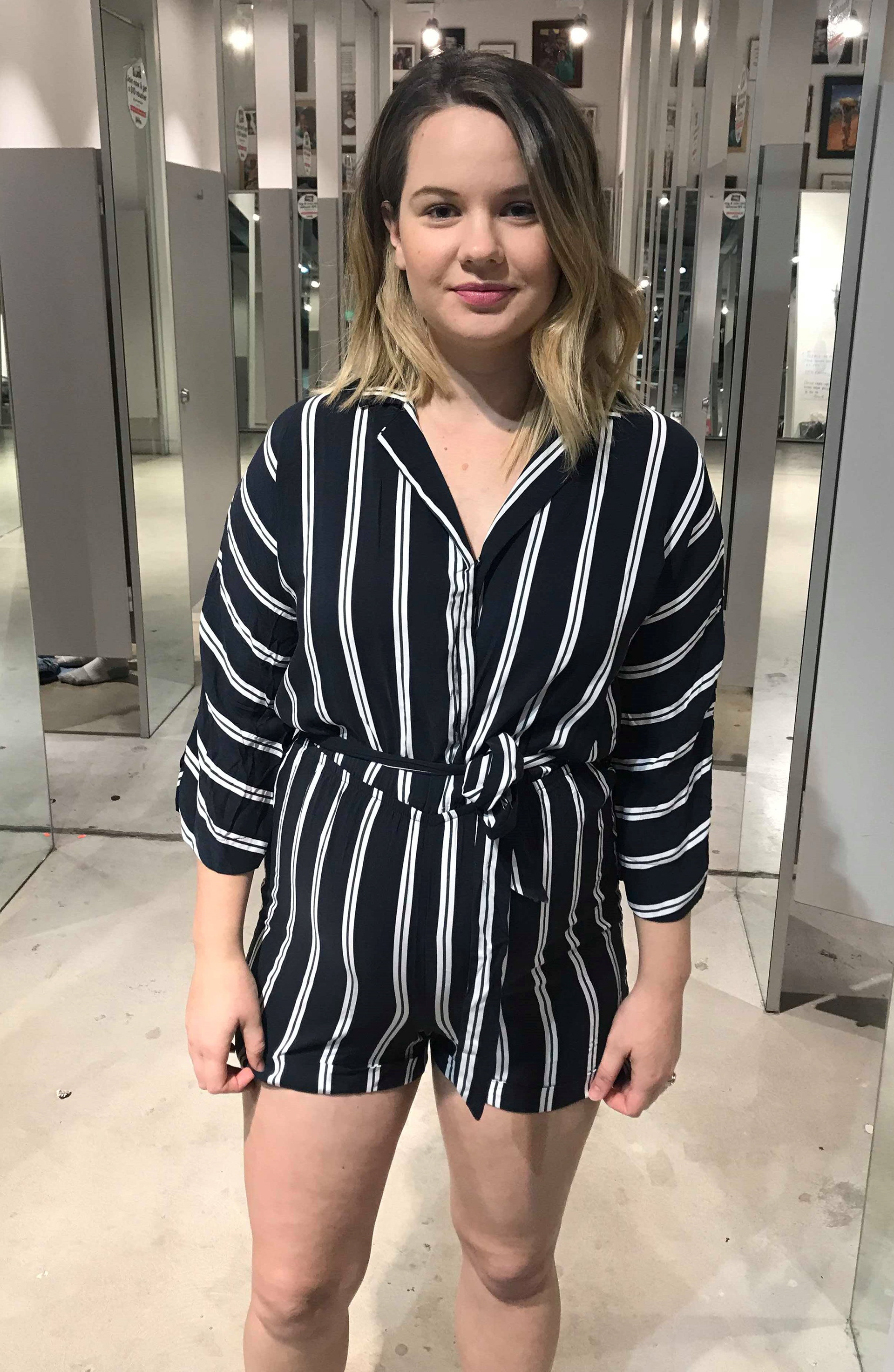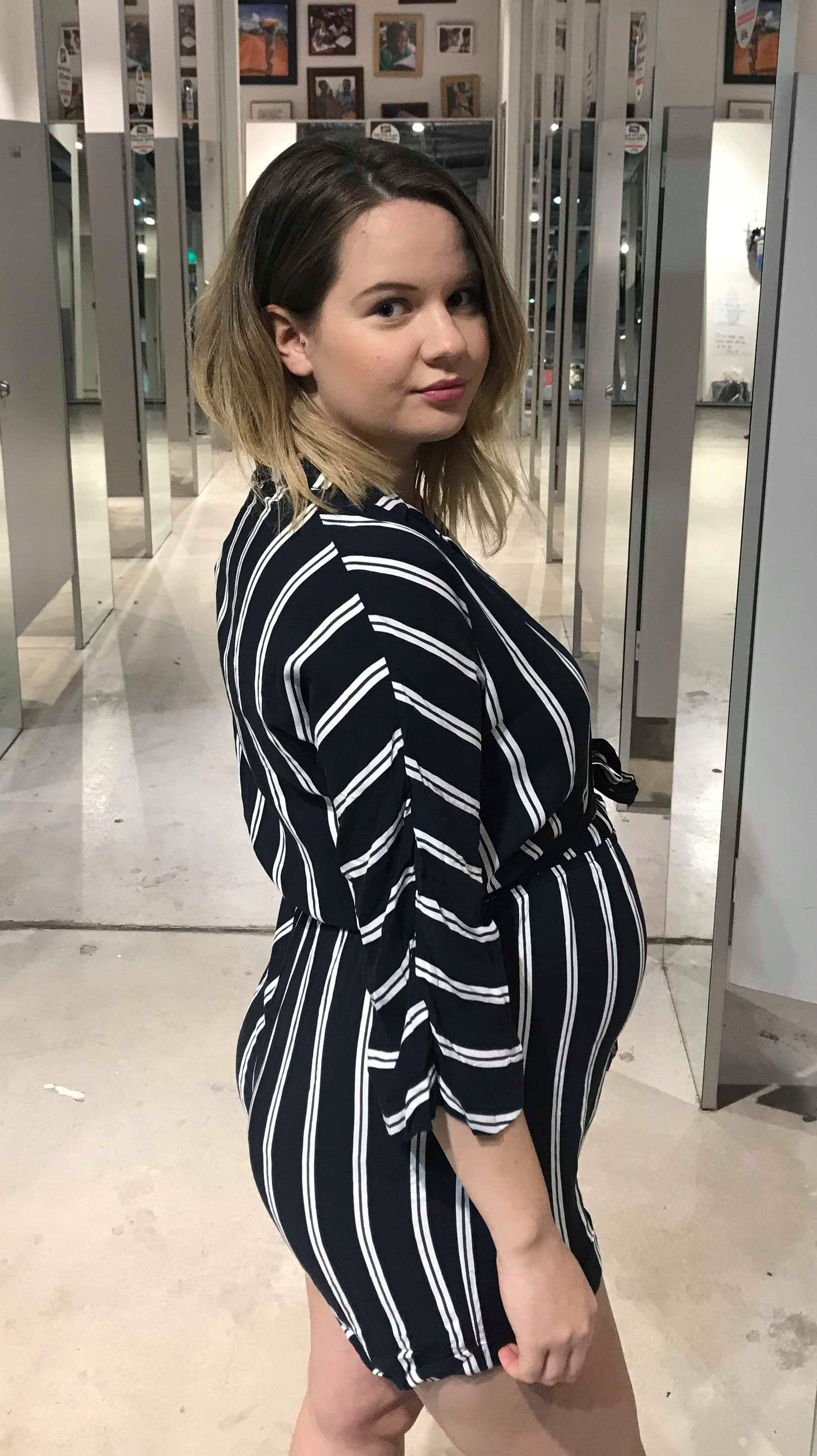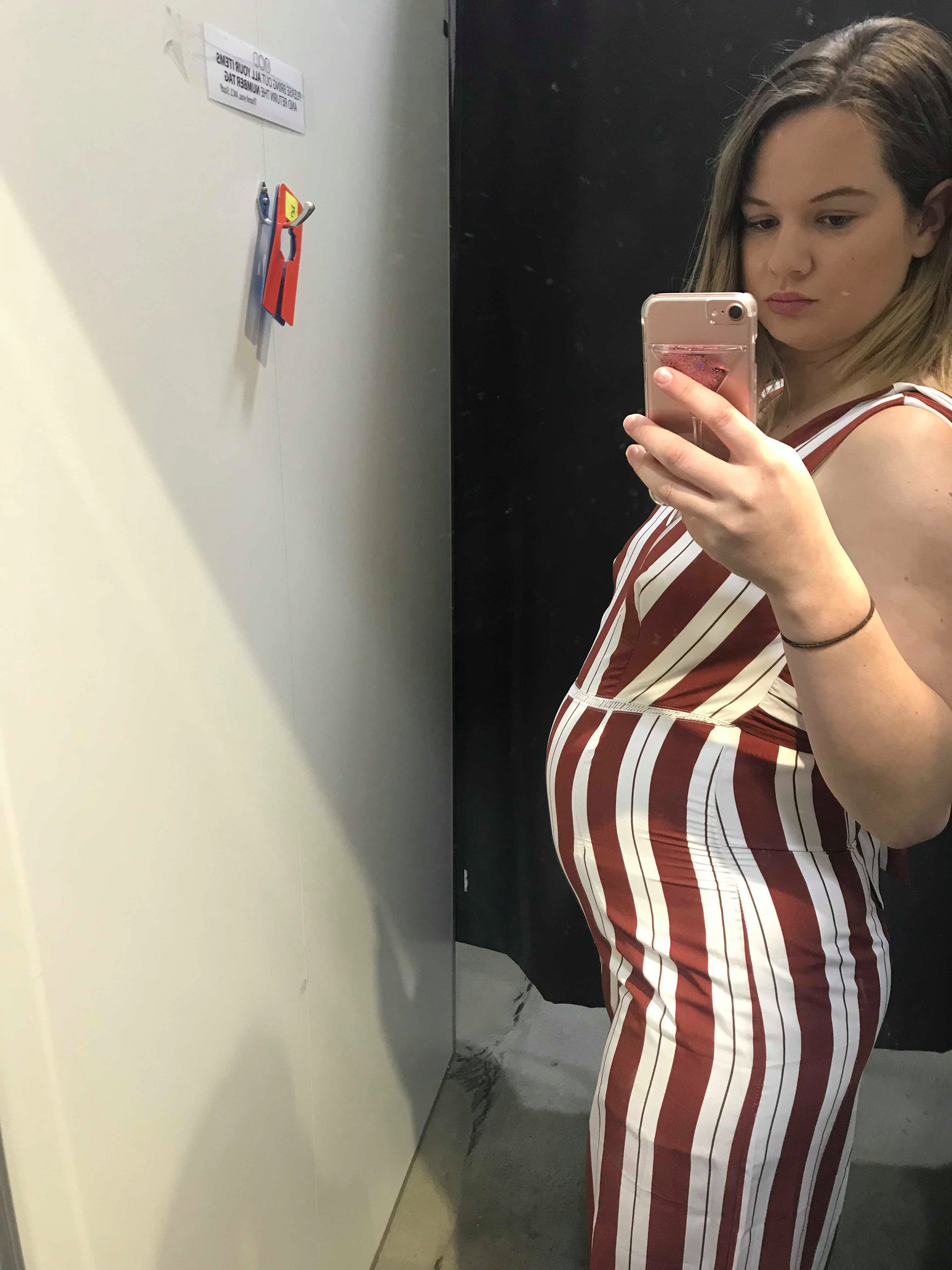 I'm just going to separate this section into two. Bad and good. Above is bad. As you can see on the far left the top, although being my correct size, is just too loose. The stripes are too subtle and it does nothing for my figure. The photo don't show the extent of how huge this made me look. The vertical stripes brought attention up and down my body and made my legs look wider as a result. Next, the orange stripes actually made me look all bunched up. It brought my waist line down in a curve but that's because it wasn't maternity. The three quarter length works to lengthen a silouette however the problem with vertical stripes is they don't always bend around the bumps so well. Therefore I ended up looking flat and I just look bulky in the belly. This would be fabulous on someone who plus size with natural curves. But if you're looking for more shape I'd steer away from something like this.
The black and white in the middle has the same effect with the waist line looking awkward on my baby bump. The way the stripes go opposite on the sleeve make the arms blend in and look bigger. The eye will follow the direction on the stripes.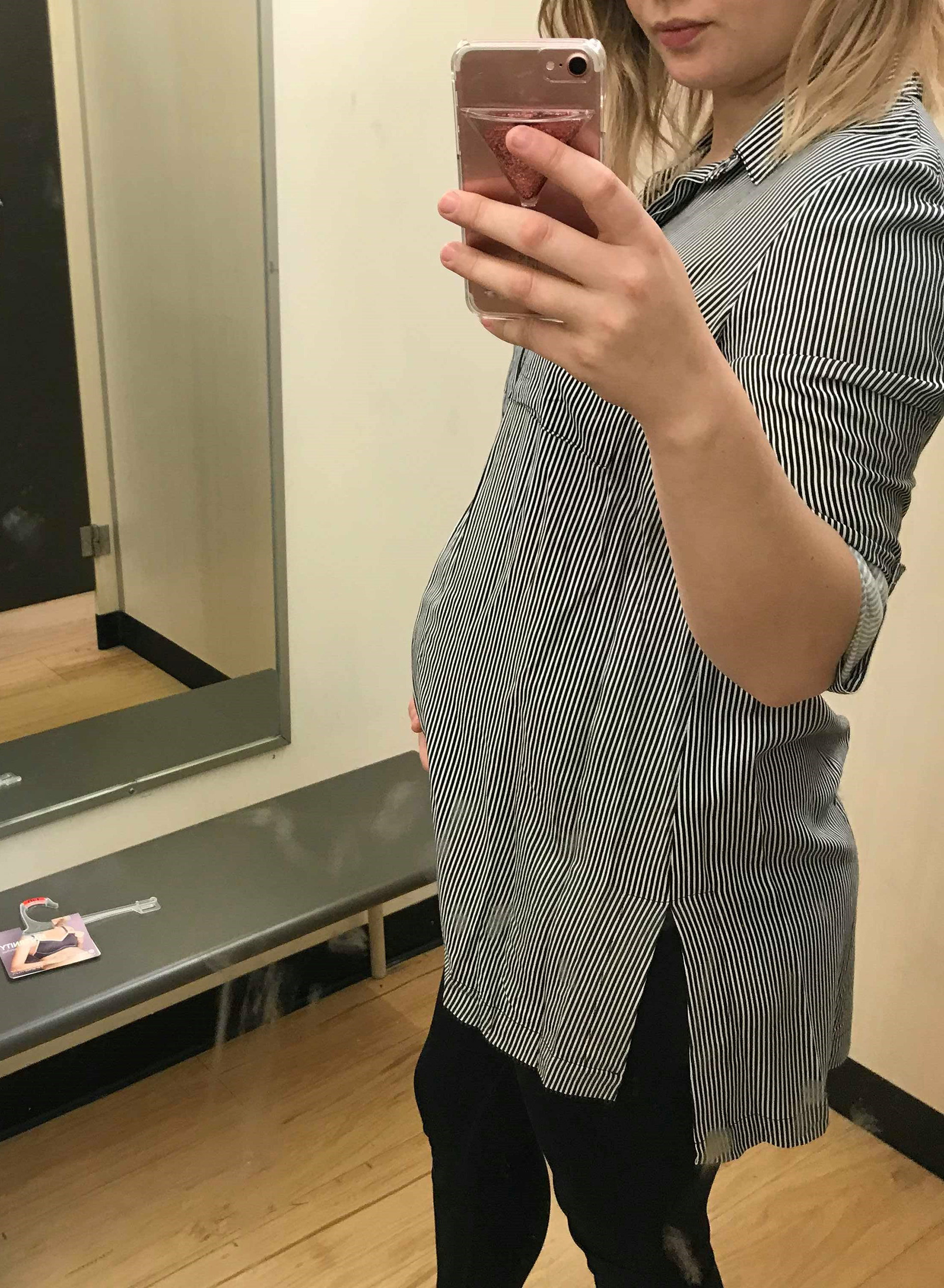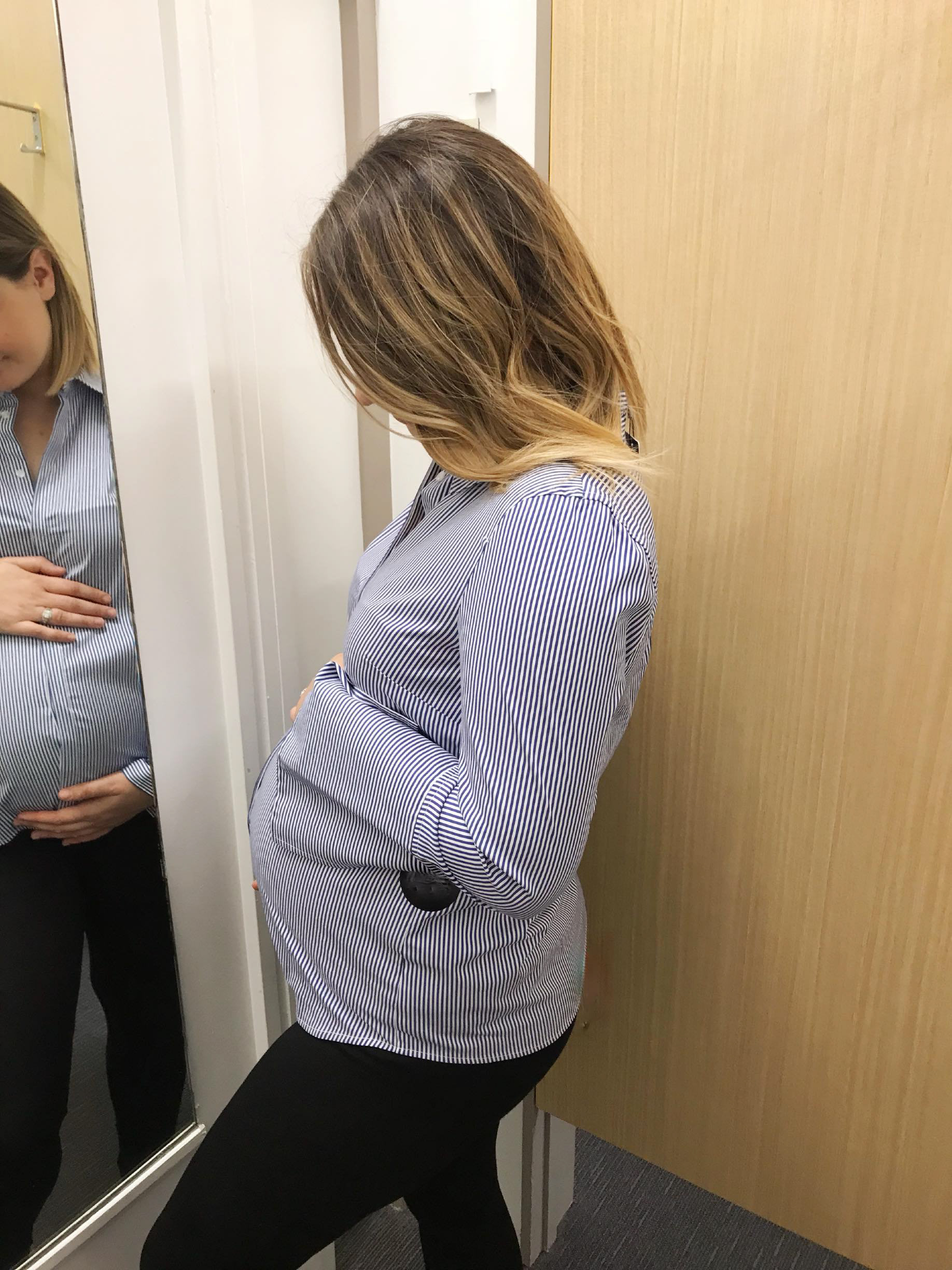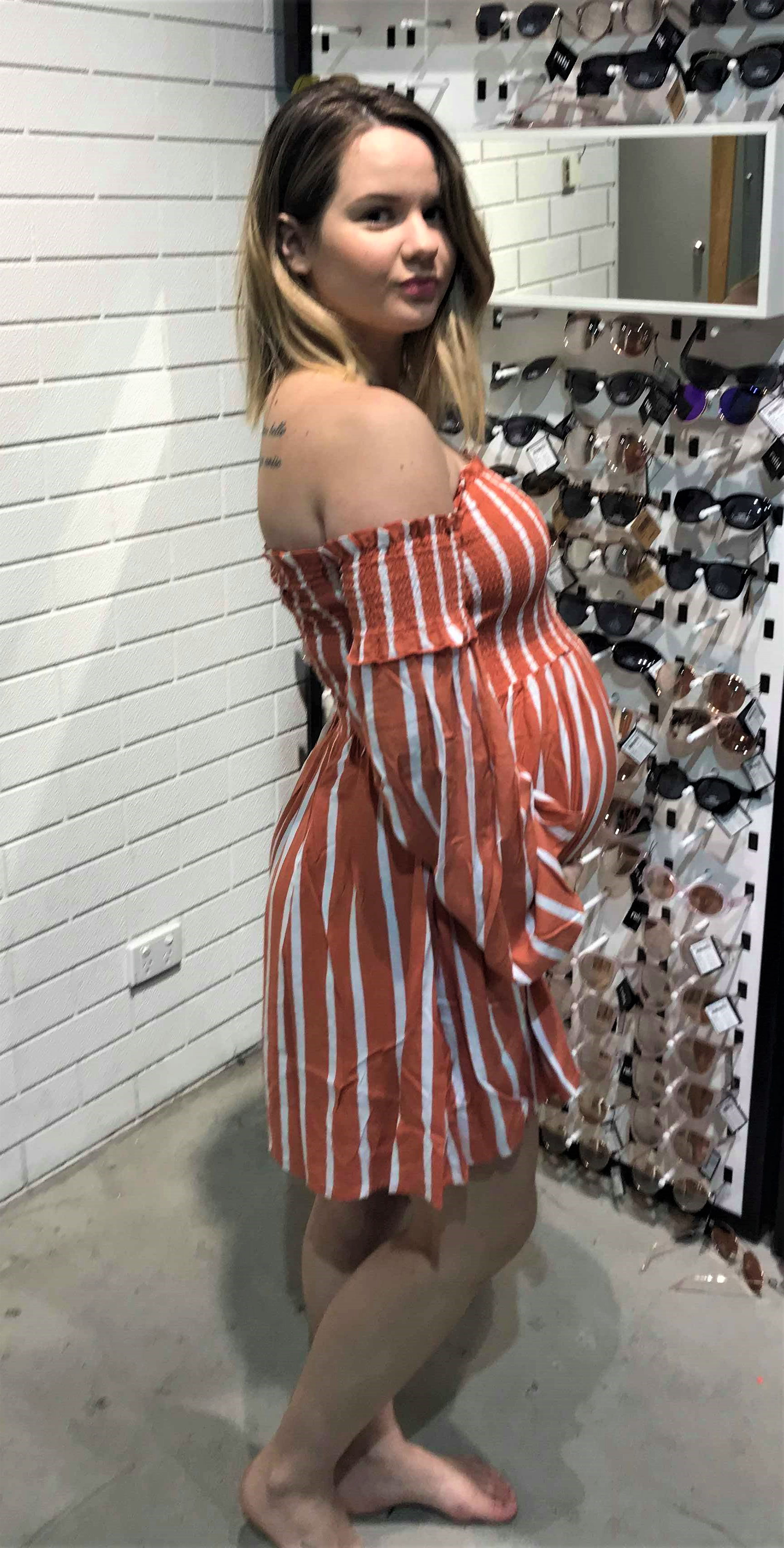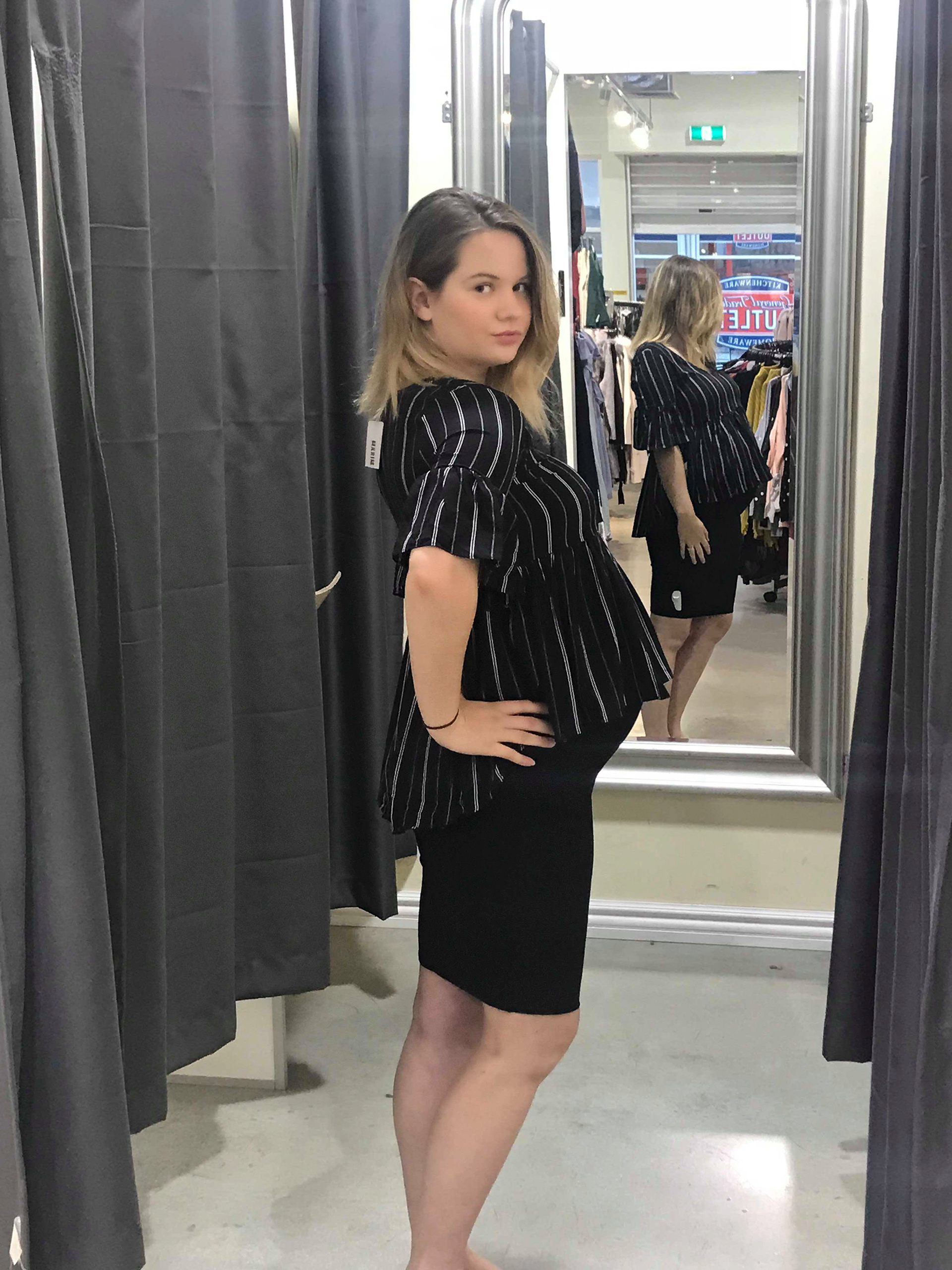 Above are some better examples. Again you can see orange and white stripes. This is a much better example on shape. It was also super comfortable. Again it's not maternity but the effect it had was to make me look ultimately smaller.. or more shaped. The shirt on the left is maternity and so comfortable. Being maternity it was sewn with the bump in mind and it doesn't go over the top flowy but it gave me room to breathe. The sleeves were fitted and this made my arms look normal. Second from the left wasn't maternity but you can see it had the same effect. The stripes being smaller gave it a much more subtle effect. On the far right we have a black and white top which is shorter at the front. It flares out nicely and will show off the bump, however it won't shape it very much.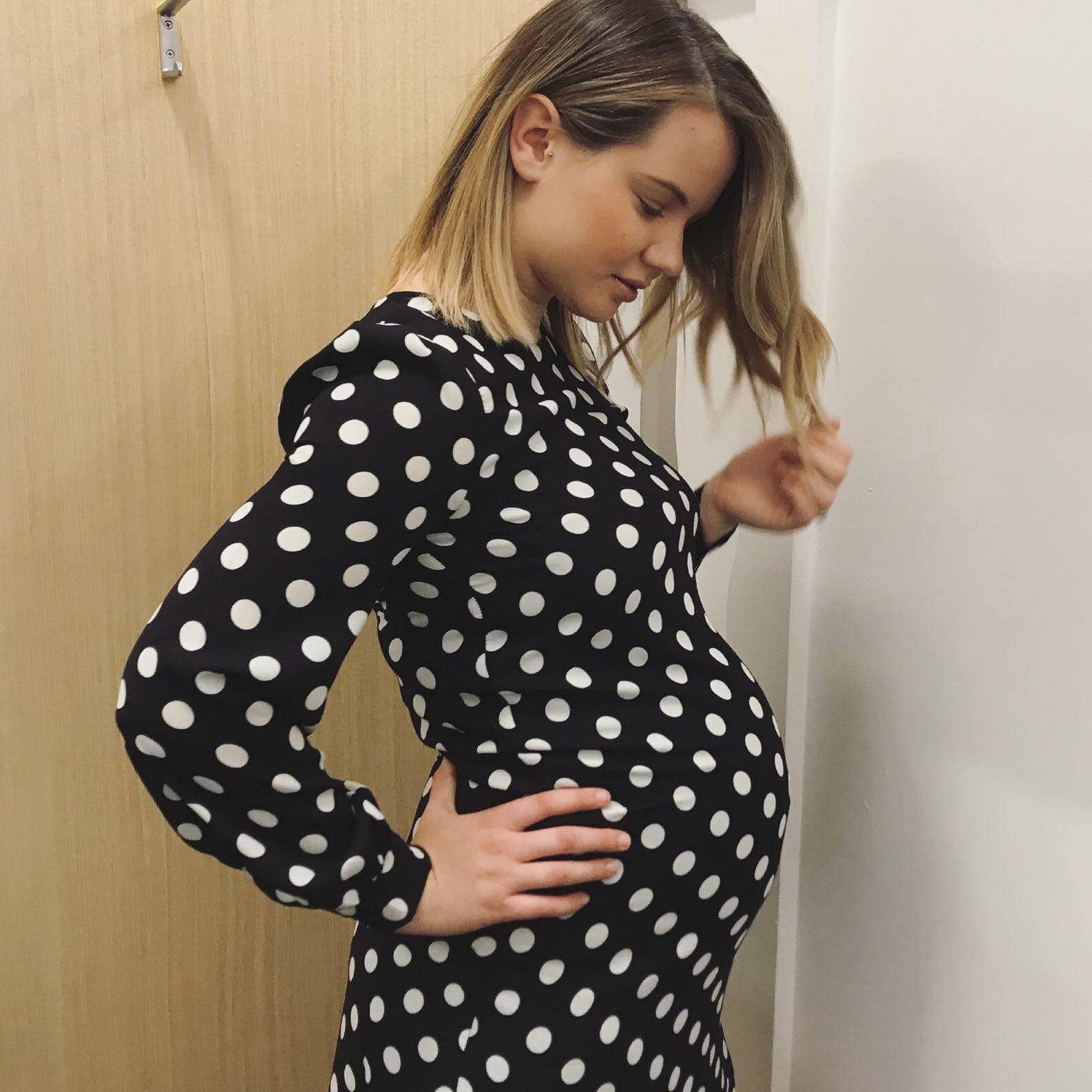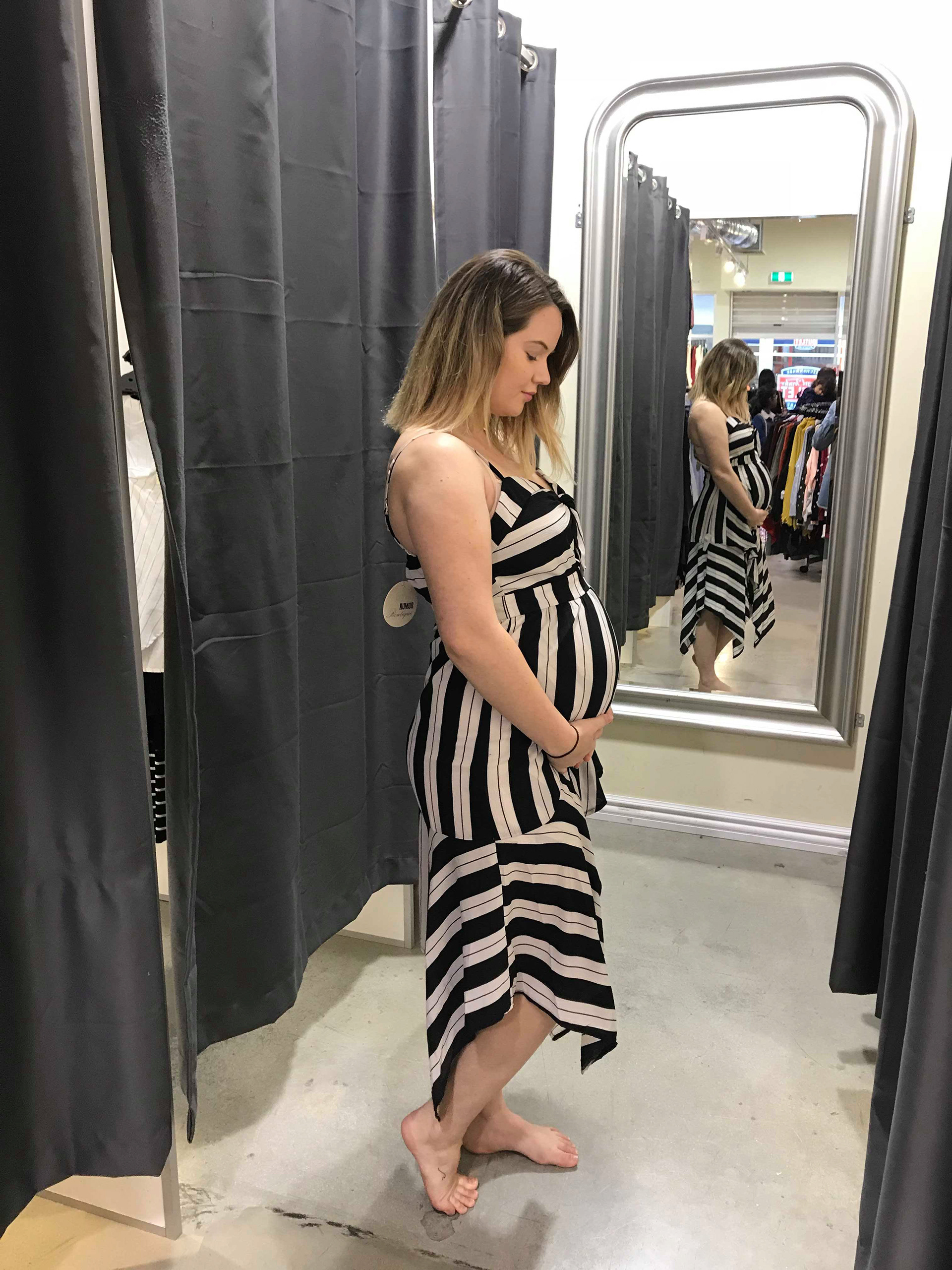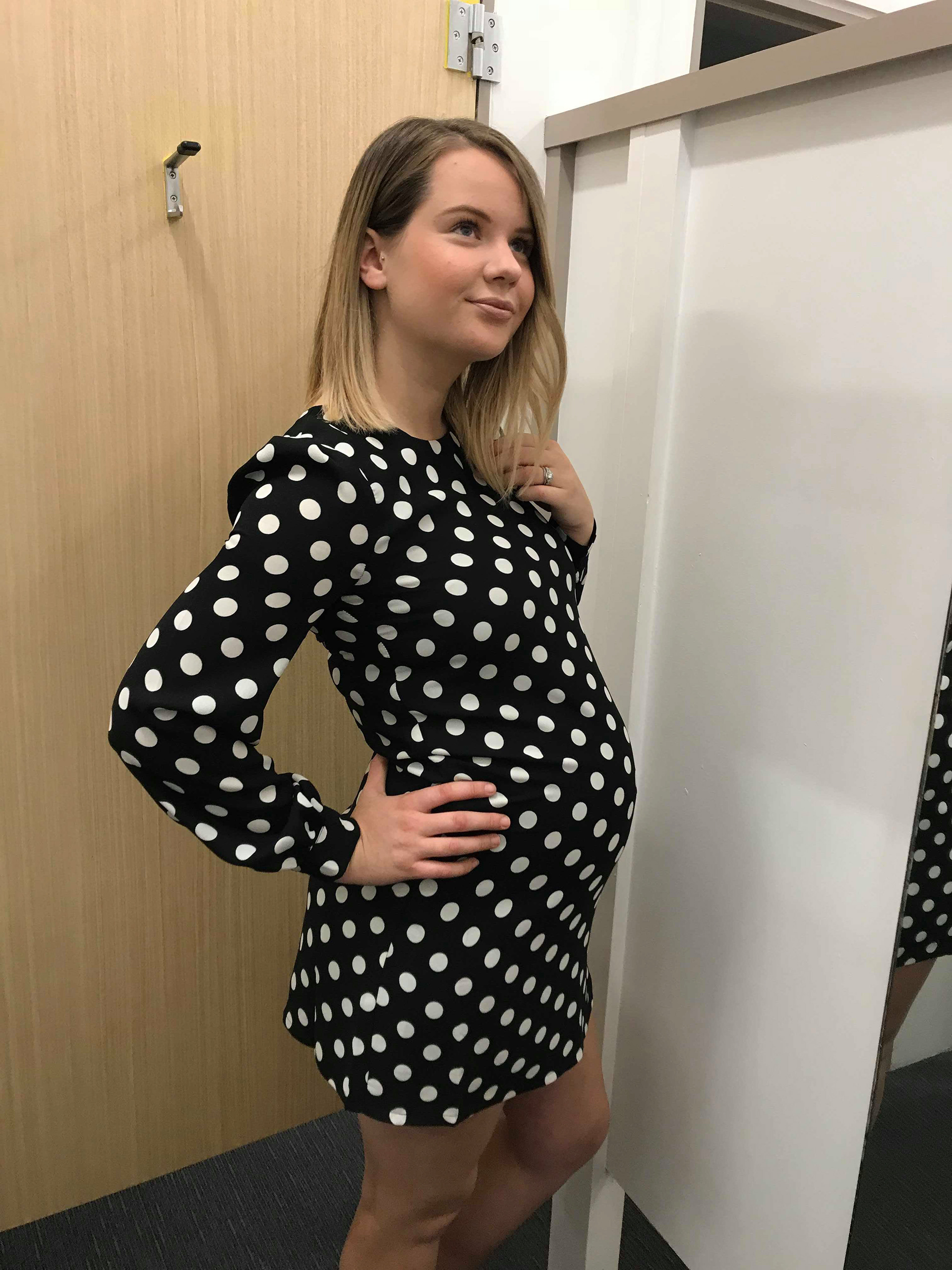 I wanted to mention spots and differing stripes. The black and white spot dress above from French Connection might look cool in the photo but it washed me out. The big contrast of stark black vs snow white was harsh on the belly. It was confusing where to look. Women are rushing with hormones during pregnancy that often gives us a "glow" So you want to draw as much attention to your face. Be careful with patterns that just seem too much. The reason maternity wear is so simple is because during this time it's better to express ourselves through accessories and add ons. It can just become too much and the eye won't know where to look.
The stripe dress in the middle there would be a great disguise to the bump while you're smaller and still in the second trimester. The colours are more subtle being a cream instead of white and it won't confuse the eye so much. It also uses diagonal stripes which will give you length.

I wanted to briefly mention that if thinning is what you're looking for then black is best. Black is quite magical really. It's perfect as a base colour. Wear black tights and a shirt and then pair it with a nice jacket and cool boots. Or a black bodycon dress will do wonders for your bump way above what stripes could ever achieve. You don't have to lose your personal style because you can pair any colour with black.
Notice the dress below has a subtle vertical line in the fabric. This is the best thing to lengthen as it's not a print. I felt super confident in the dress and it would be easy to accessorise with some killer earrings and awesome heels. The only down side to black is it whitens your tone. You can counteract this effect by wearing  a lighter coloured jacket, or by getting a spray tan of course.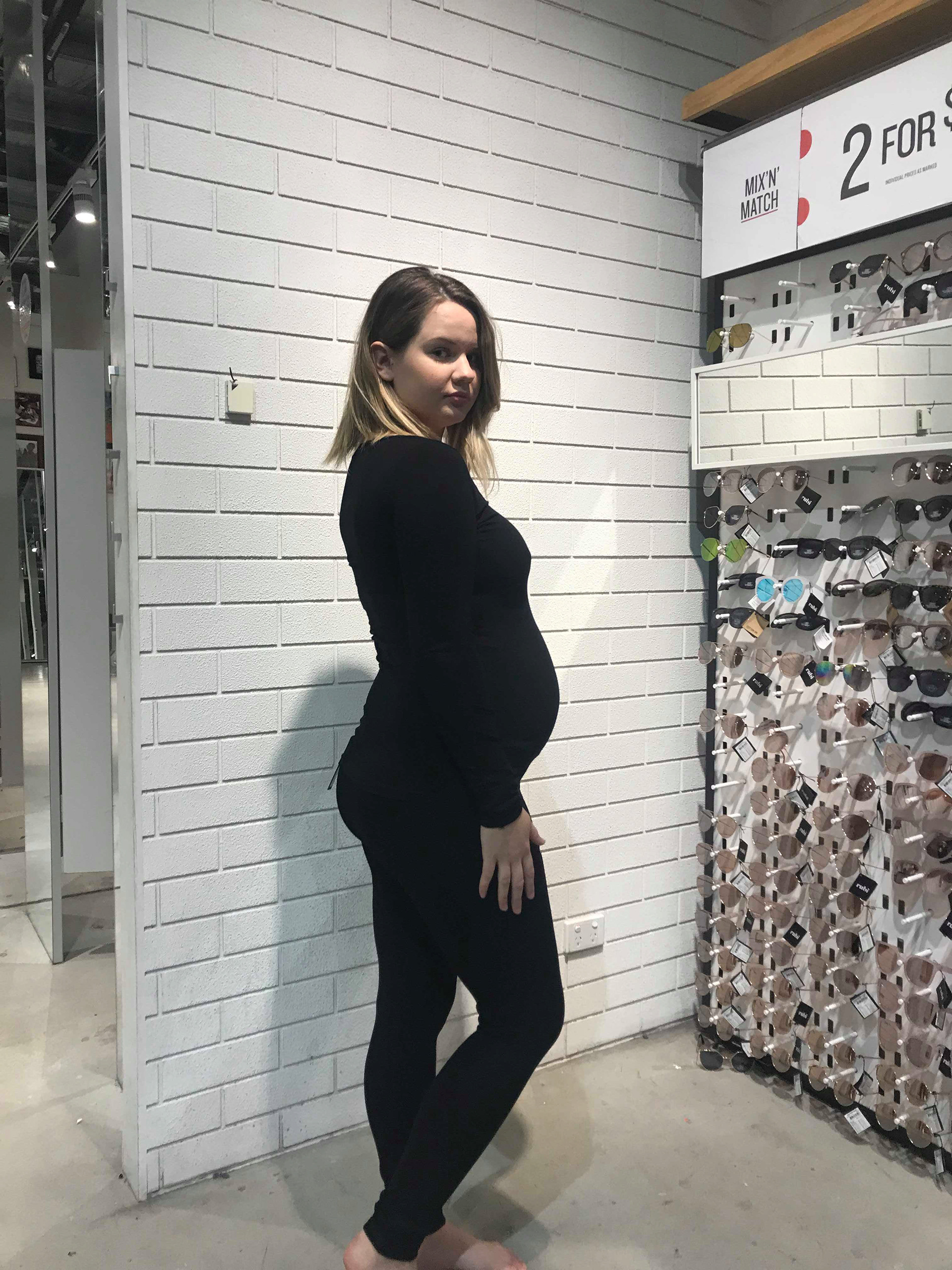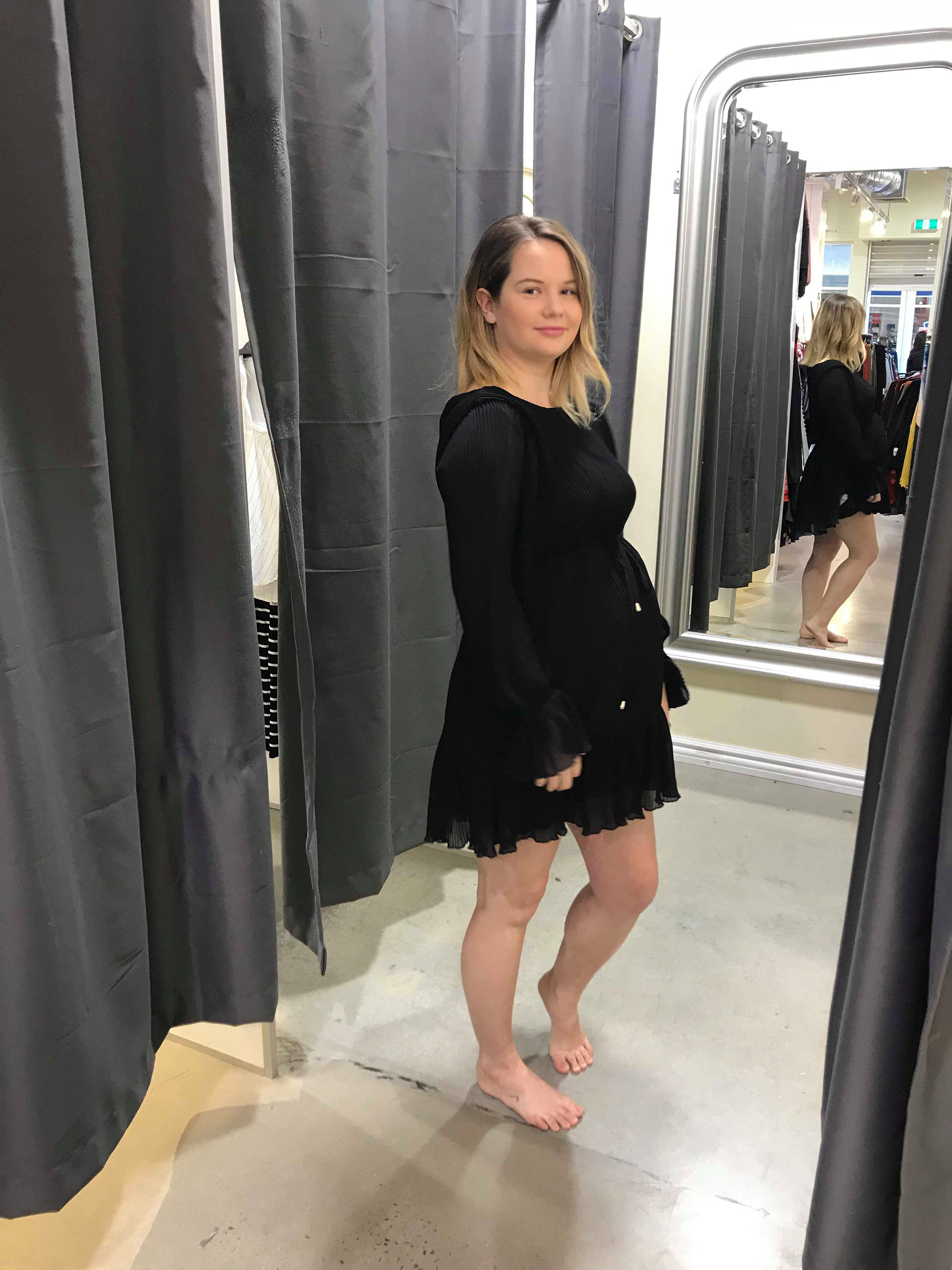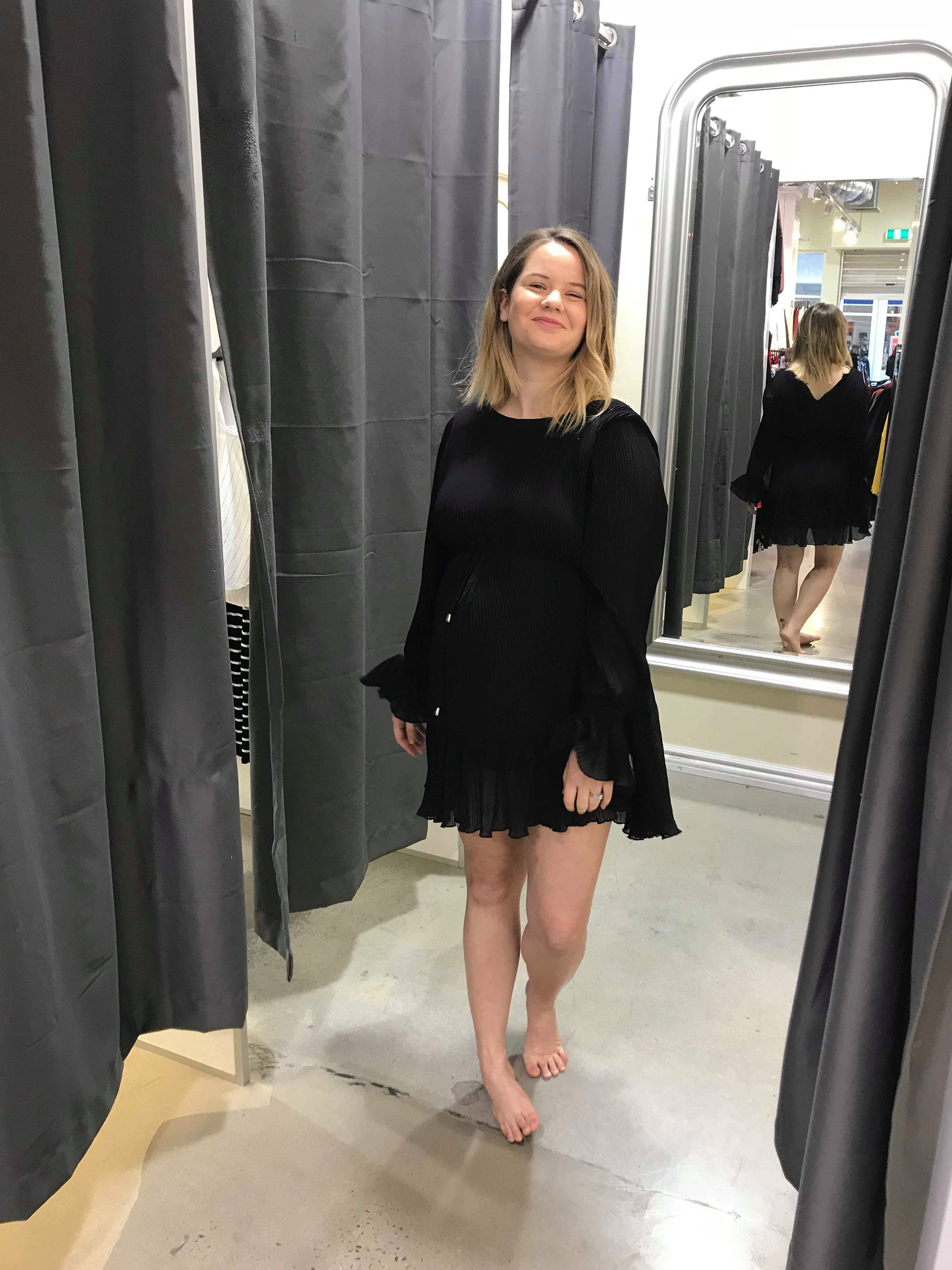 And there you have it. In conclusion what I found was vastly similar to what Val Watham concluded through his finding. Horizontal stripes are great for petite figures. Vertical stripes are great if you are larger. And during pregnancy vertical stripes tend to be better. But black trumps all for me. There's more to it than patterns and it comes down also to the design.
In the end whatever you feel most confident in is what you should be wearing. Because you are your biggest critic, plus, you're the one that has to wear it. I hope you learnt something from my experimentation. Leave me a comment and tell me what you've found personally to be the best with stripes.
Thanks for reading,
Xx