Let me start off with the spoiler, if the picture didn't already give it away... we're having a GIRL!!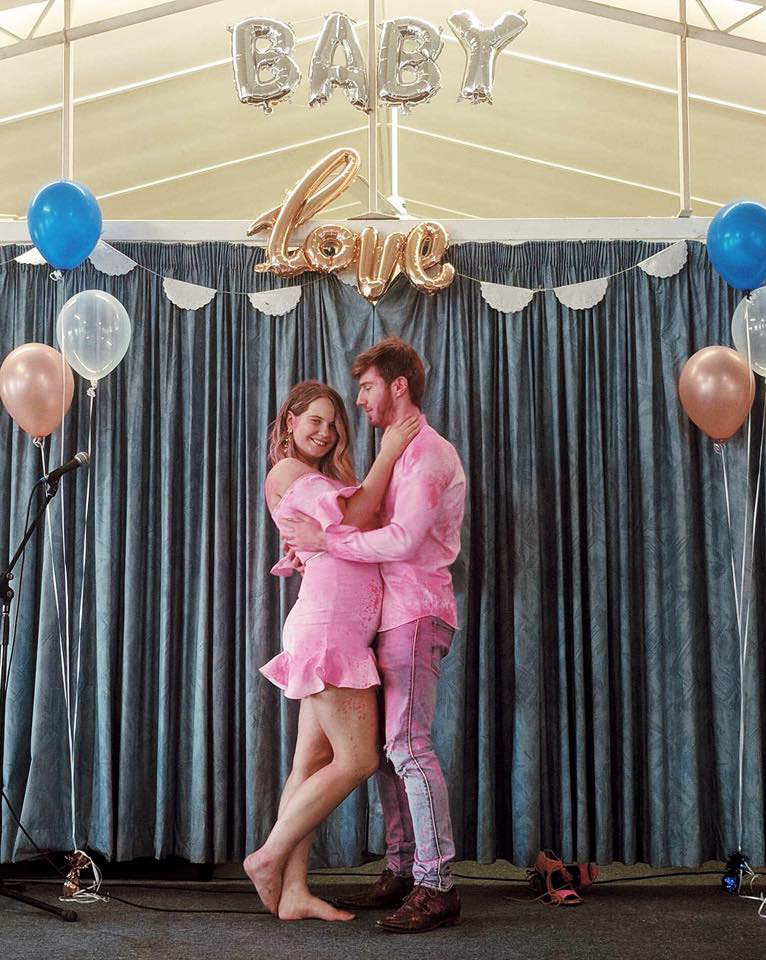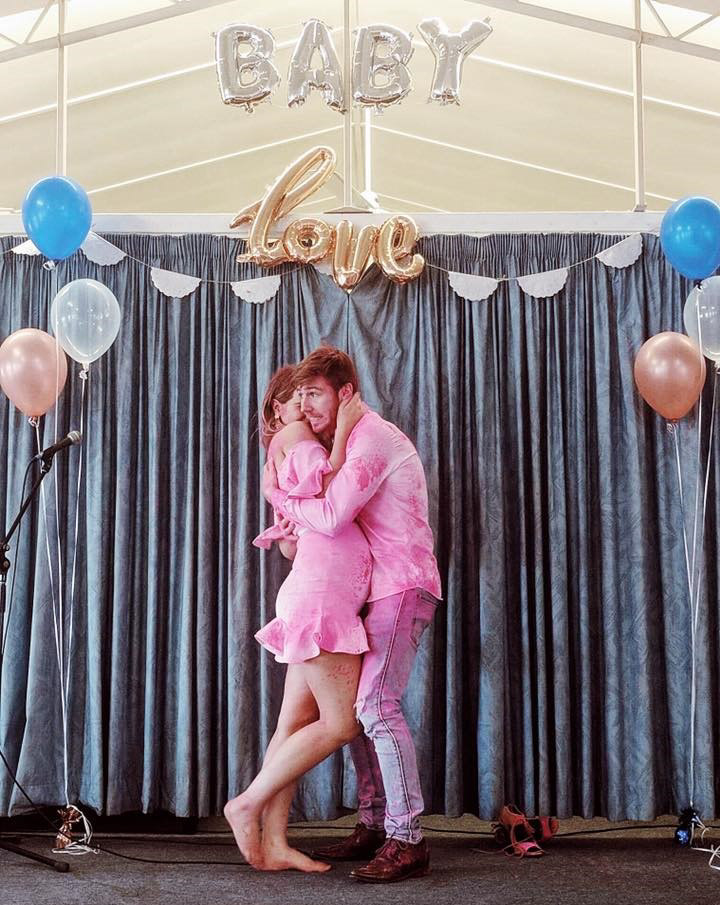 The whole day from start to finish was incredible. It was a bit surreal. One of those moments you only get a few times in life. 
I had gotten an imaging scan a few weeks earlier. They had given me chocolate and coffee and told me to relax. The whole experience was amazing. Being non medical they were able to make it a little more cute. I gave the lady a card and asked her to write the gender down, to seal it and not to tell me. I then sent this off to my two sisters in Queensland who organised the party for us, along side one of their friends, a great party planner. And let me say the temptation to look in that envelope before sending it was intense. But I wanted to find out with Josh at the party and it wouldn't have been fair to myself to look. The weeks approaching I had a few dreams about it being a girl or a boy and I think I just confused myself so much that it remaining a surprise was inevitable.
The days leading up were so long. Josh had been in Melbourne, Brisbane, Cairns and then Japan. And I'd been at home, working. All this boredom, loneliness and excitement meant that no matter what the party was like I was going to be excited. To see Josh again, to see our families and friends, and to find out more about this little miracle growing inside me. We already have a name picked out for a girl or a boy and I remember saying to Josh "by this time next week our baby will have a name". And that was a really exciting thought.
I did my last uni exam for the semester, got a hair cut, packed my bag and went to the airport. Had a very uncomfortable flight (flying pregnant sucks). Followed by a long trip home and then stayed up till 2am baking. Woke up at 7am and kept baking, went shopping for supplies, grabbed a MUCH needed coffee before going to the party location to drop off the food. They didn't let me inside the party because they wanted me to only see it when it was all finished, so I went back to the in-laws where I finally saw Josh after 3 long weeks. I gave him a big smooch and then mingled with family and friends for the rest of the day. If you know me you know I secretly (not so secretly) love the attention. So I enjoyed every single moment of the day.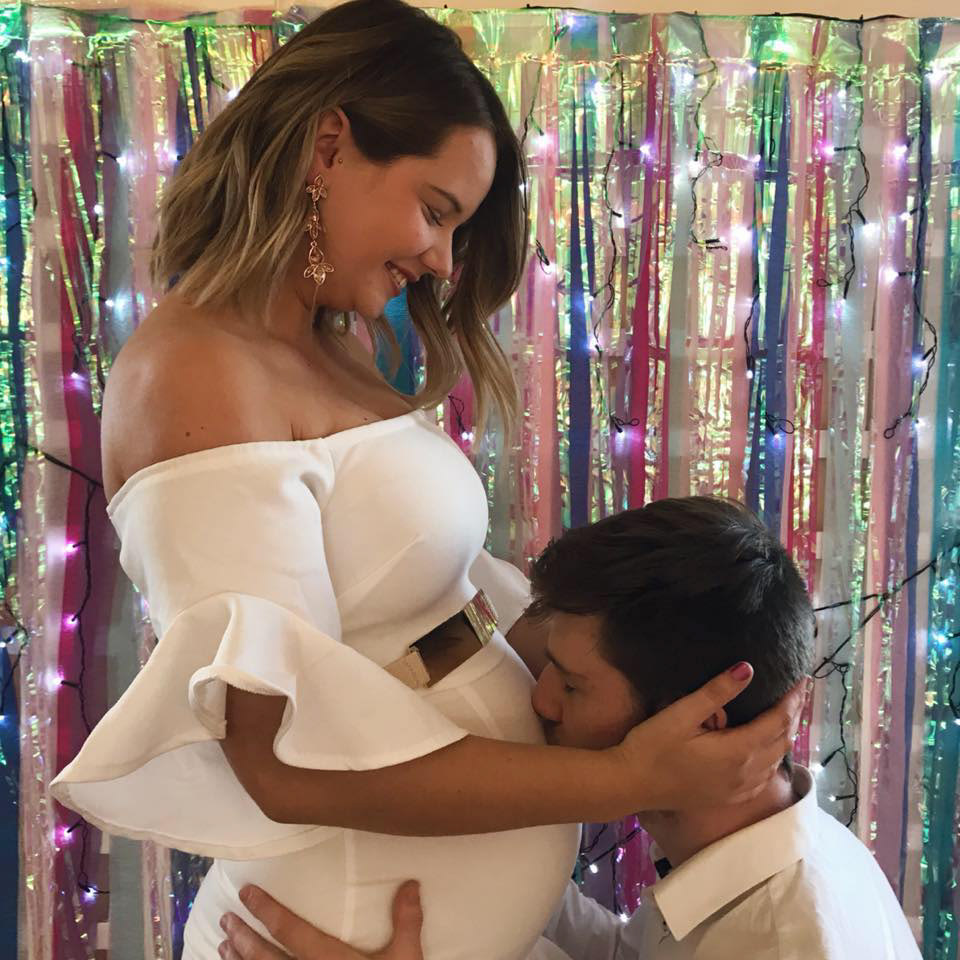 When my sister asked me what kind of party I wanted I told her I wanted more than just balloons on the floor and streamers on the roof, I wanted the place to look cool. No-one in my family had really perfected the more sophisticated party style growing up so we all had fun researching. I told her I wanted to get messy with the reveal and that I would do the food. Other than that they did everything, so it was all a surprise!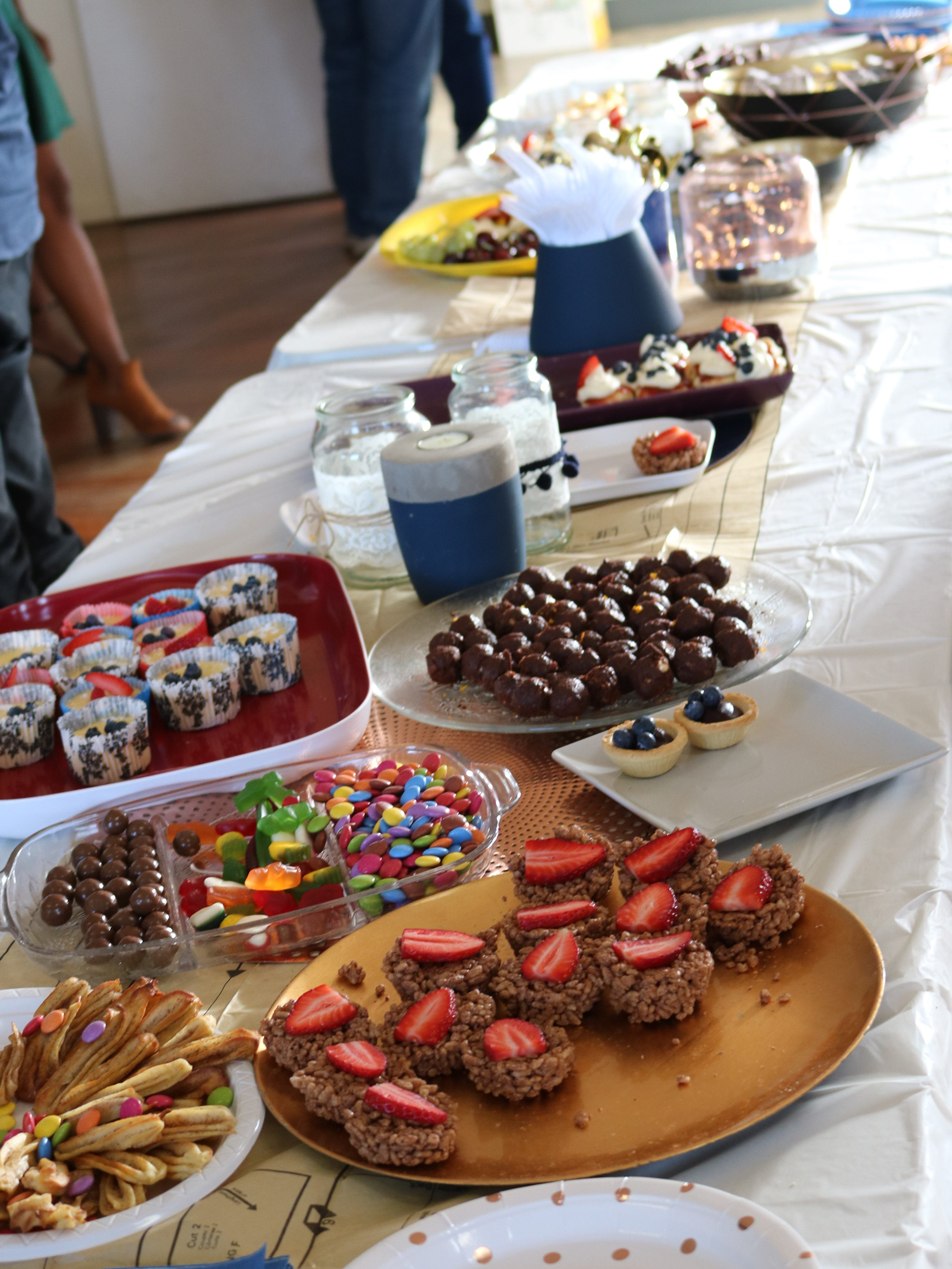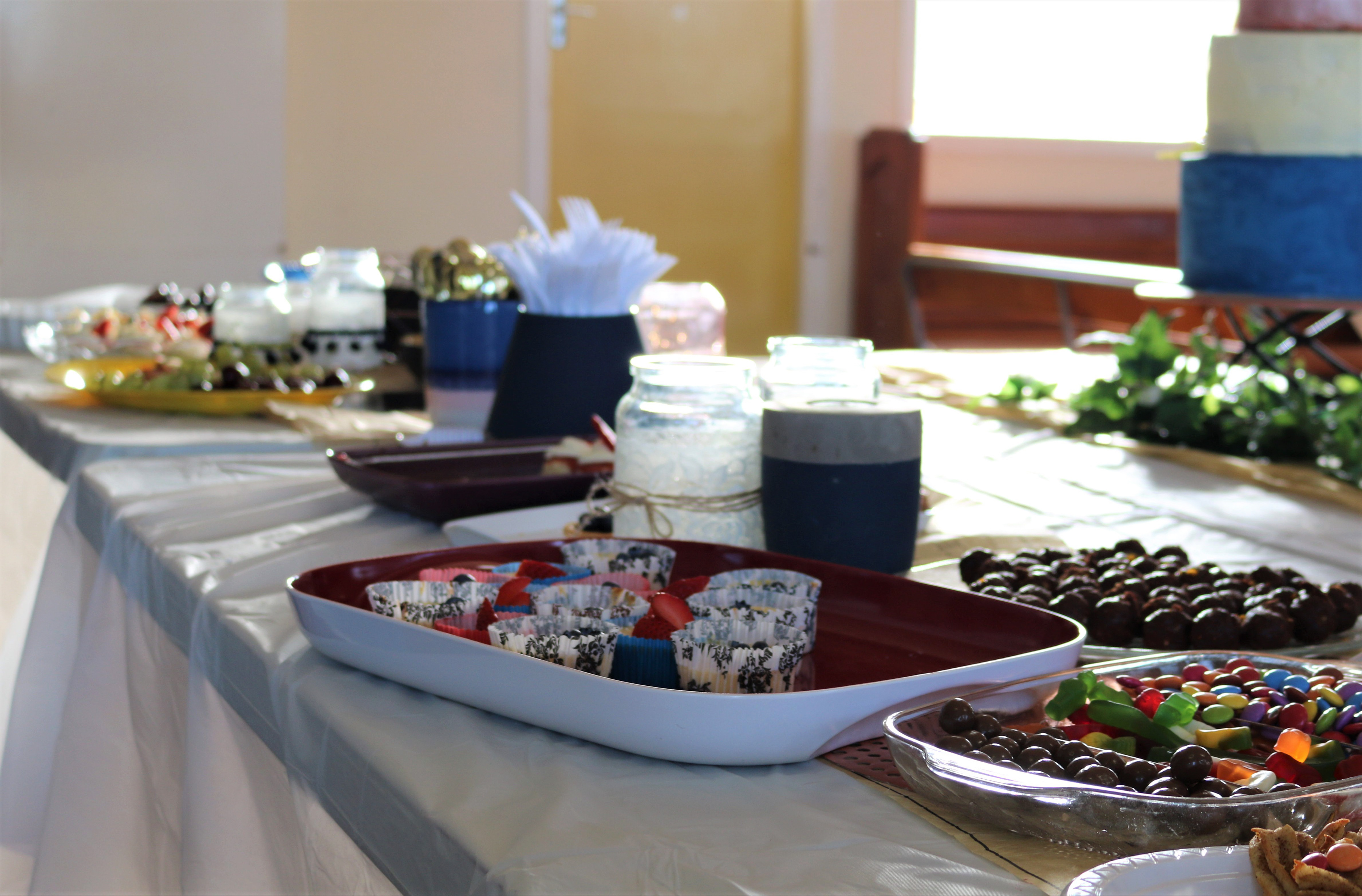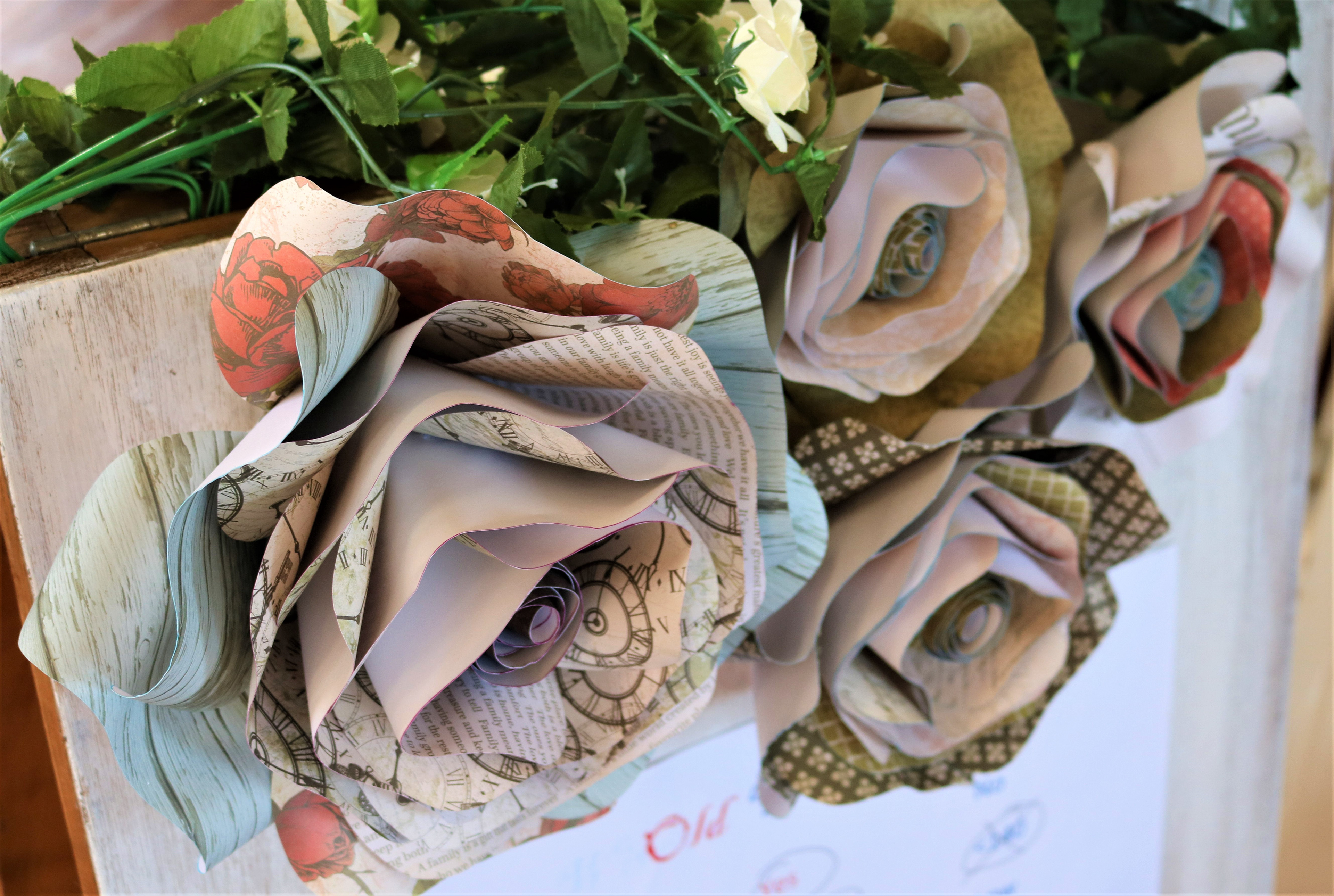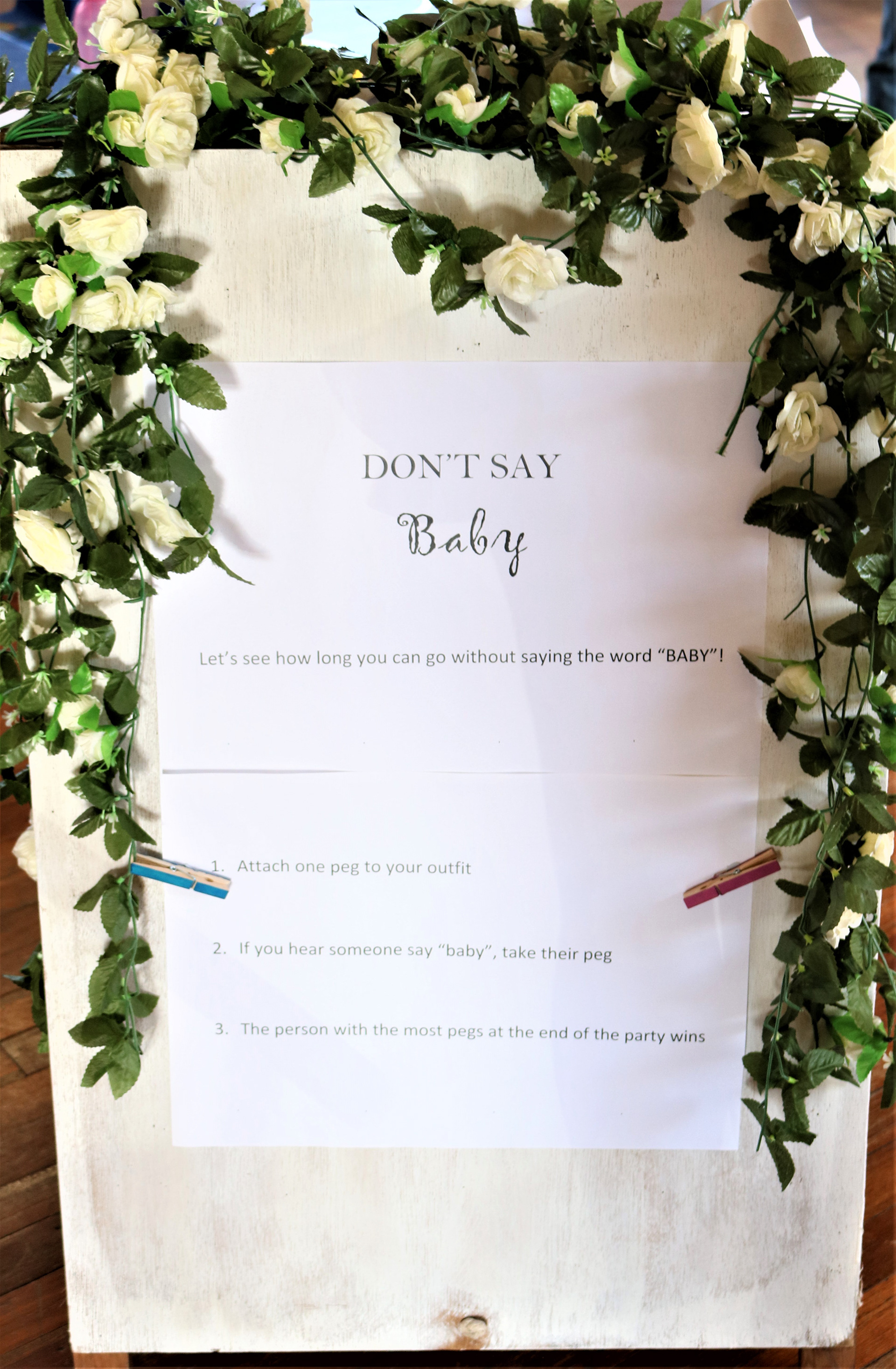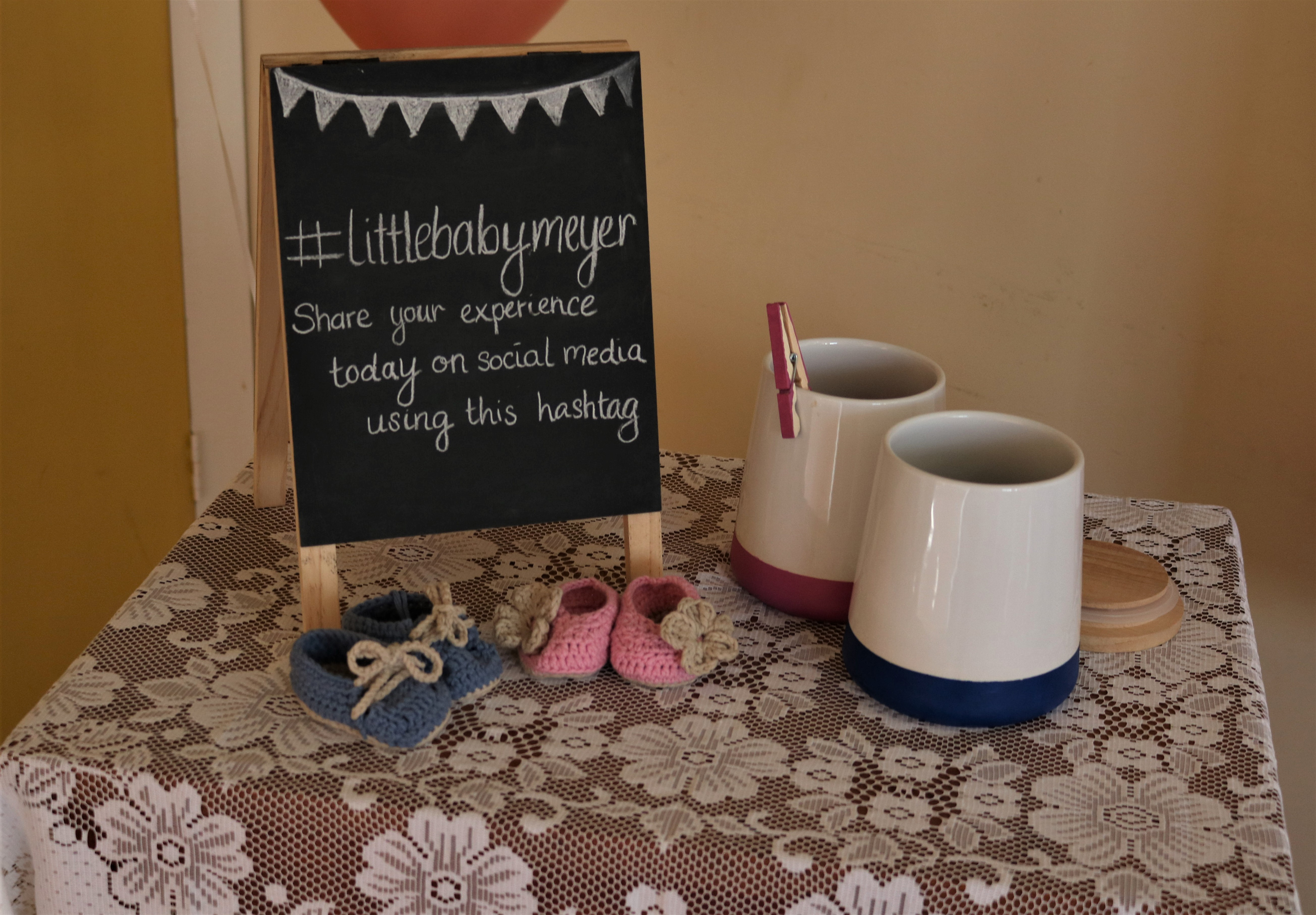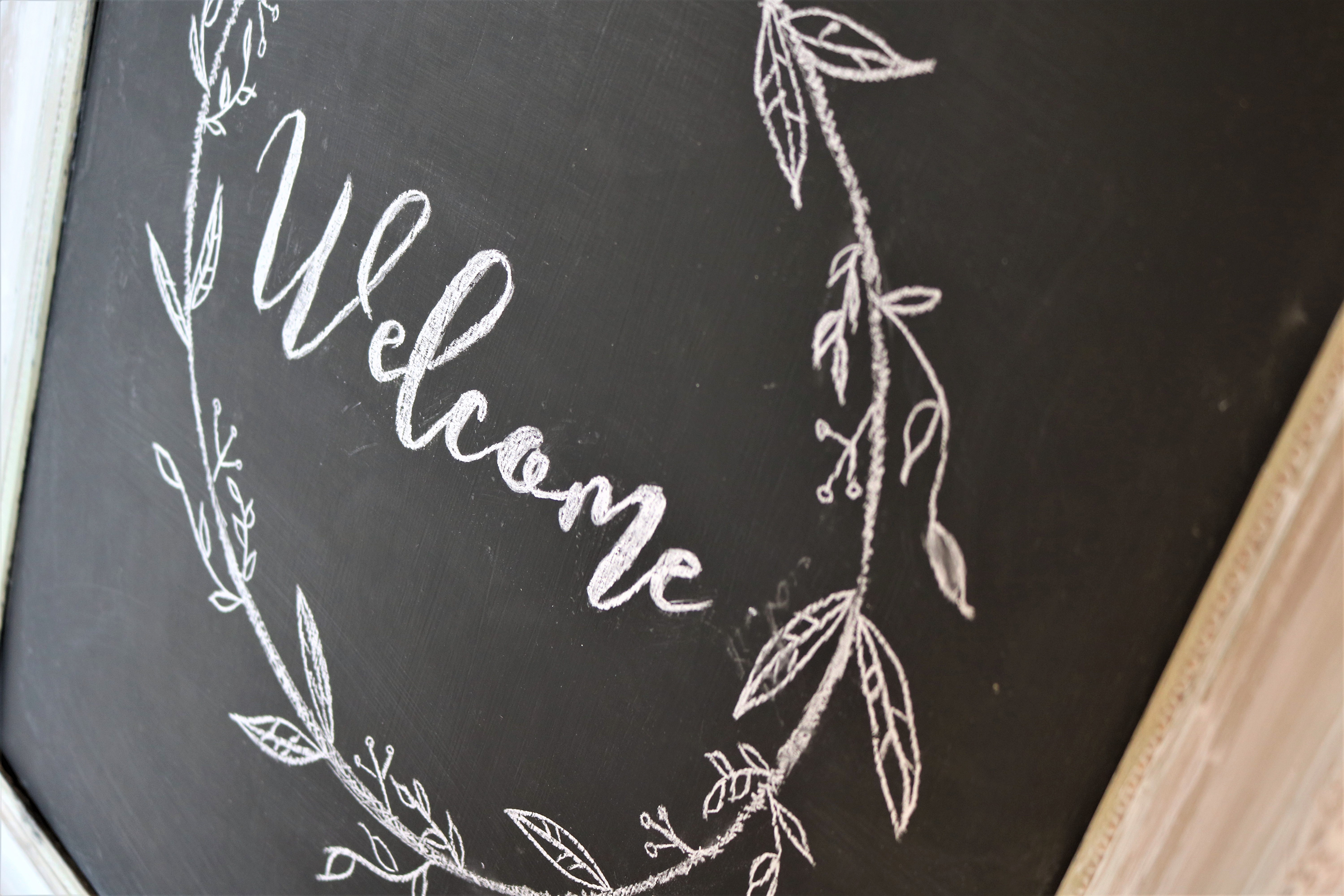 Josh and I walked hand in hand into the spectacular setup. They'd done a balloon arch, a photo backdrop, and an assortment of beautiful decorations and activities. When we first walked in we were given a choice of peg, either pink or blue (your guess of gender). Josh and I both guessed we were having a boy. And a nearby sign stated the instructions "don't say baby or someone can steal your peg". I was horrible at the game, losing spectacularly fast but Josh collected a few.
In the middle of the room there was a station where people could grab plain white baby clothes and decorate them with fabric markers. Reading all the clothes afterwards was really special, they were all so great and hilarious and in all different sizes so they'll last us a while. They also did a scrapbook where people would leave messages and we'd later print out photos from our hashtag to put in next to each message. Heath hand made this scrapbook, she is so talented.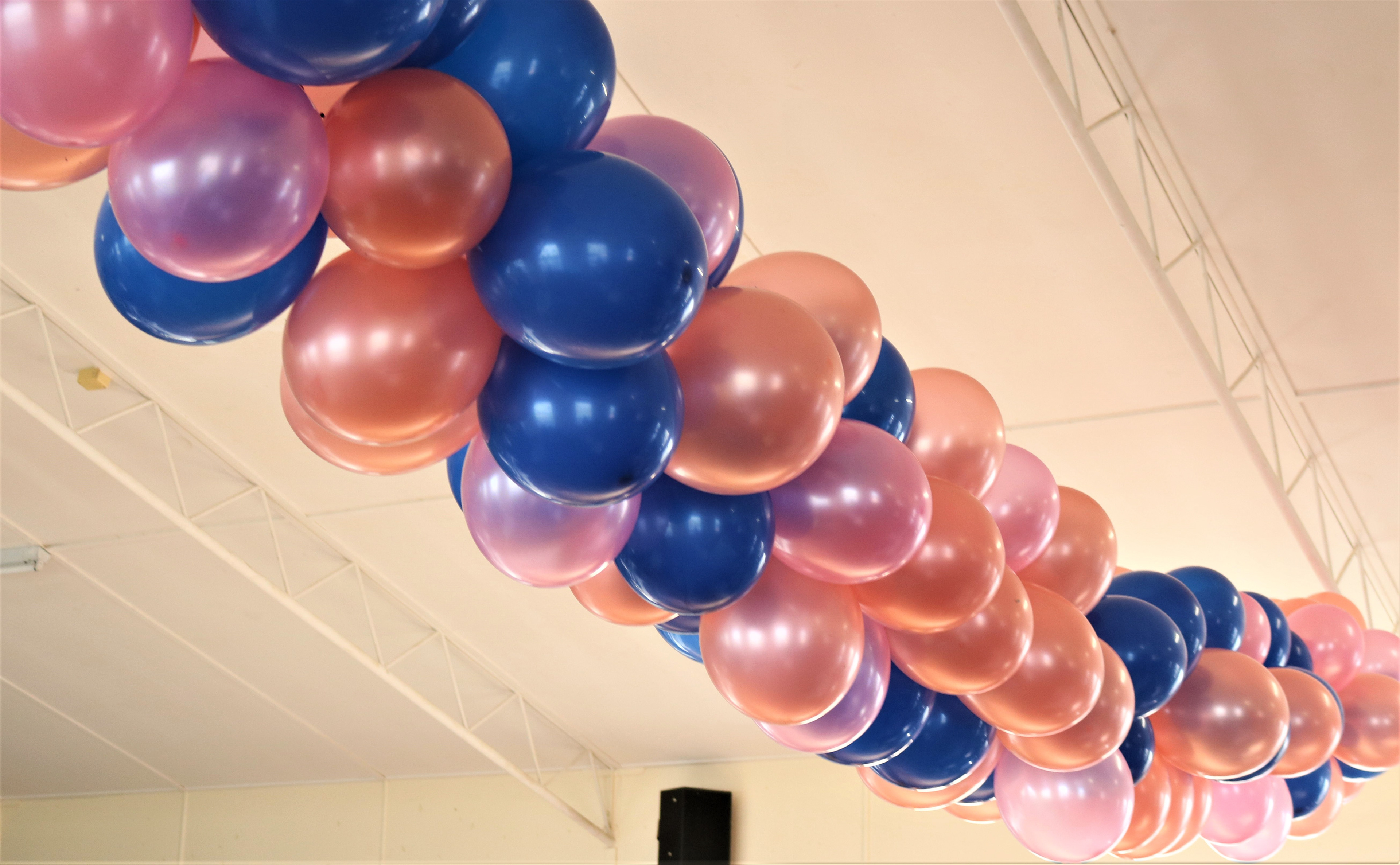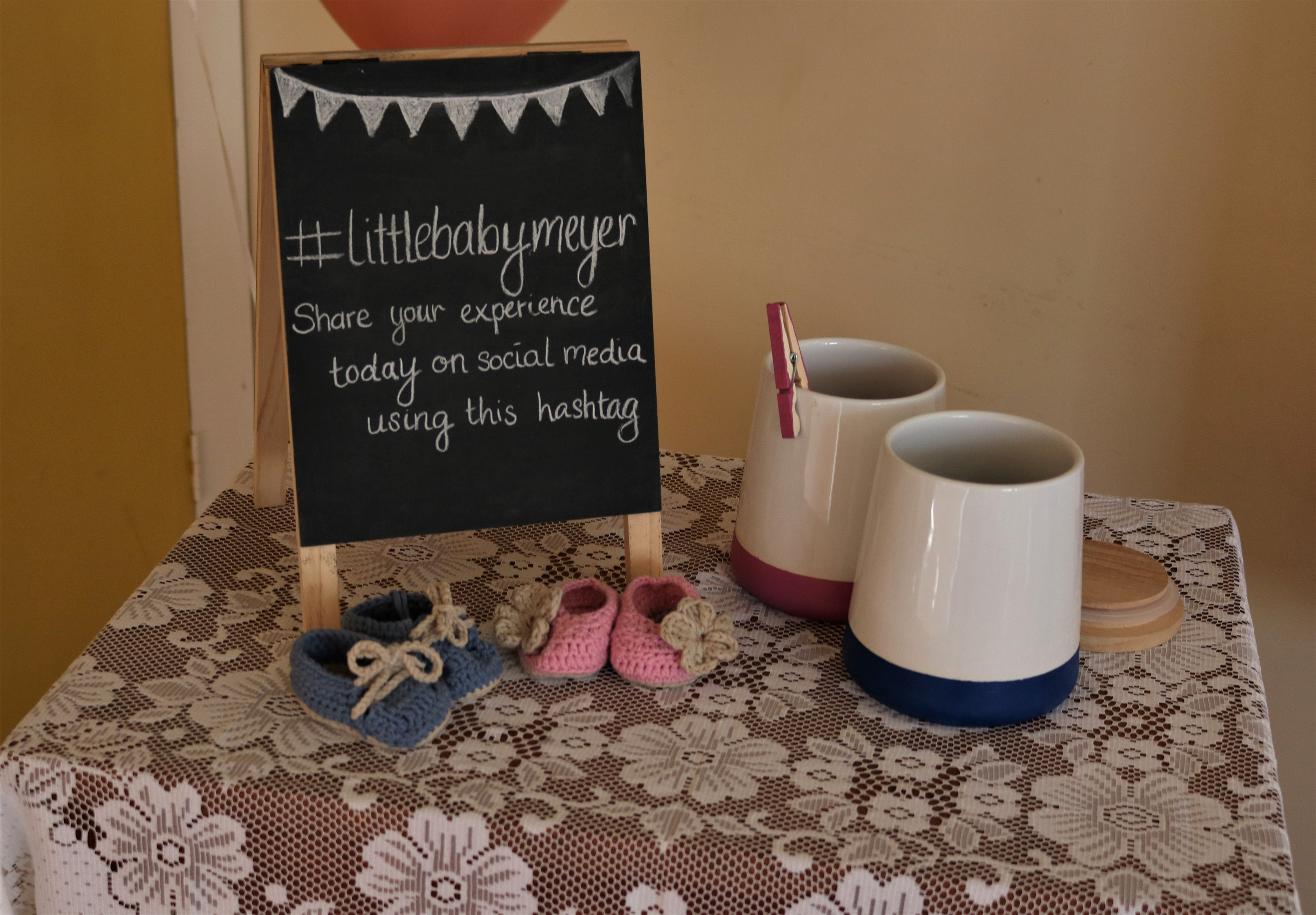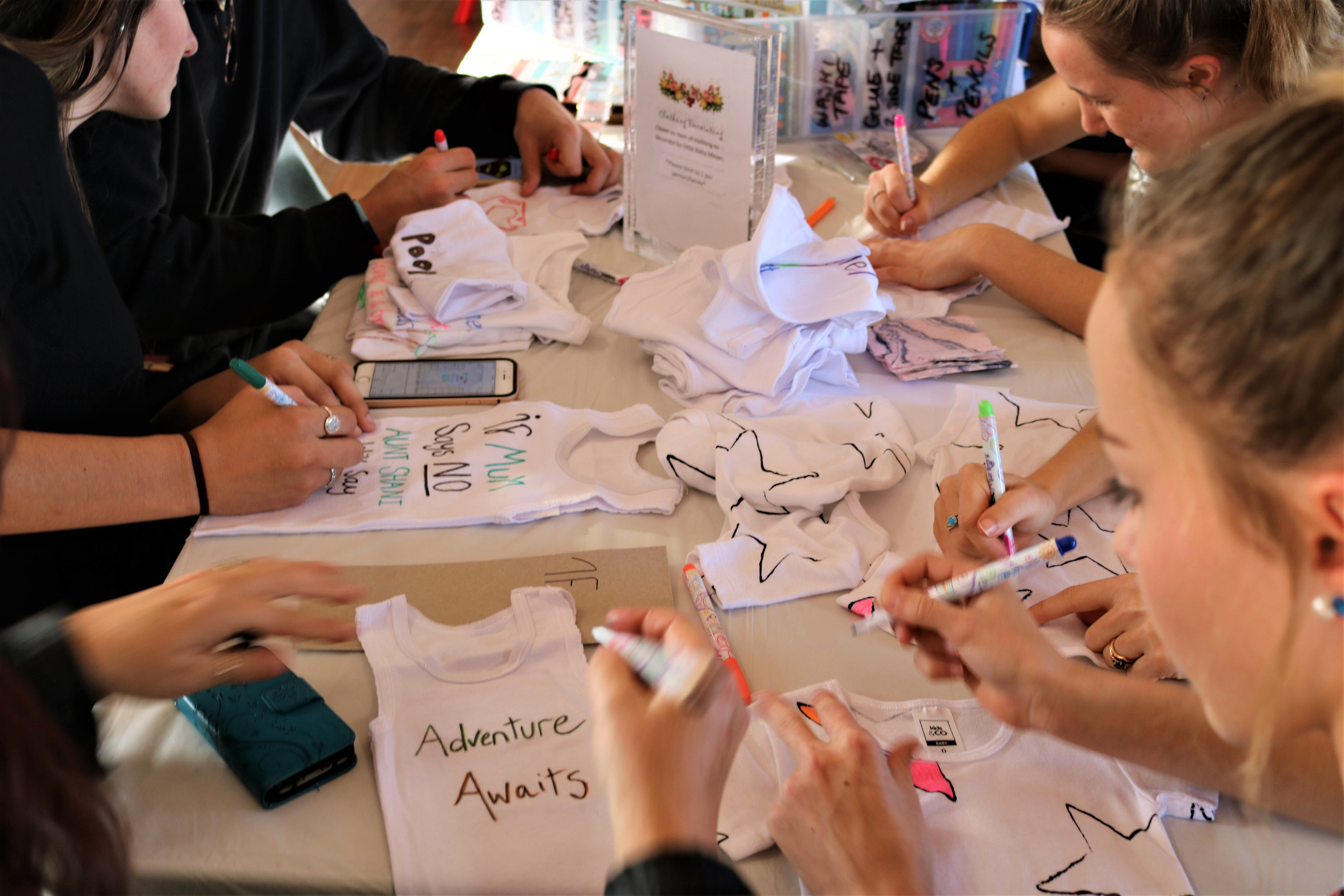 Josh sang our baby a song, this has become somewhat of a tradition. He serenaded me multiple times while we were dating and sung at our wedding too. His song was about how he can't wait to feel a kick, meet our baby and comfort her. It was about friends and family who have helped us to get here and who will help us into the future. How much love this baby will have from everyone. I think maybe he teared up a little and I did too.

After the song, we headed outside to do the reveal. They had gotten colour bomb canons. Josh and I were told to face each other. I wasn't nervous but I do remember feeling so jittery and excited. The moment went so fast and after the loud bang of the canons pink powder flew through the air. For a split moment everything stopped and I was so indescribably overwhelmingly happy. It was like in that moment this baby became more real to me than ever before. Like a switch was flicked that suddenly changed my whole life. I could feel my heart literally skip a beat, I fell in love.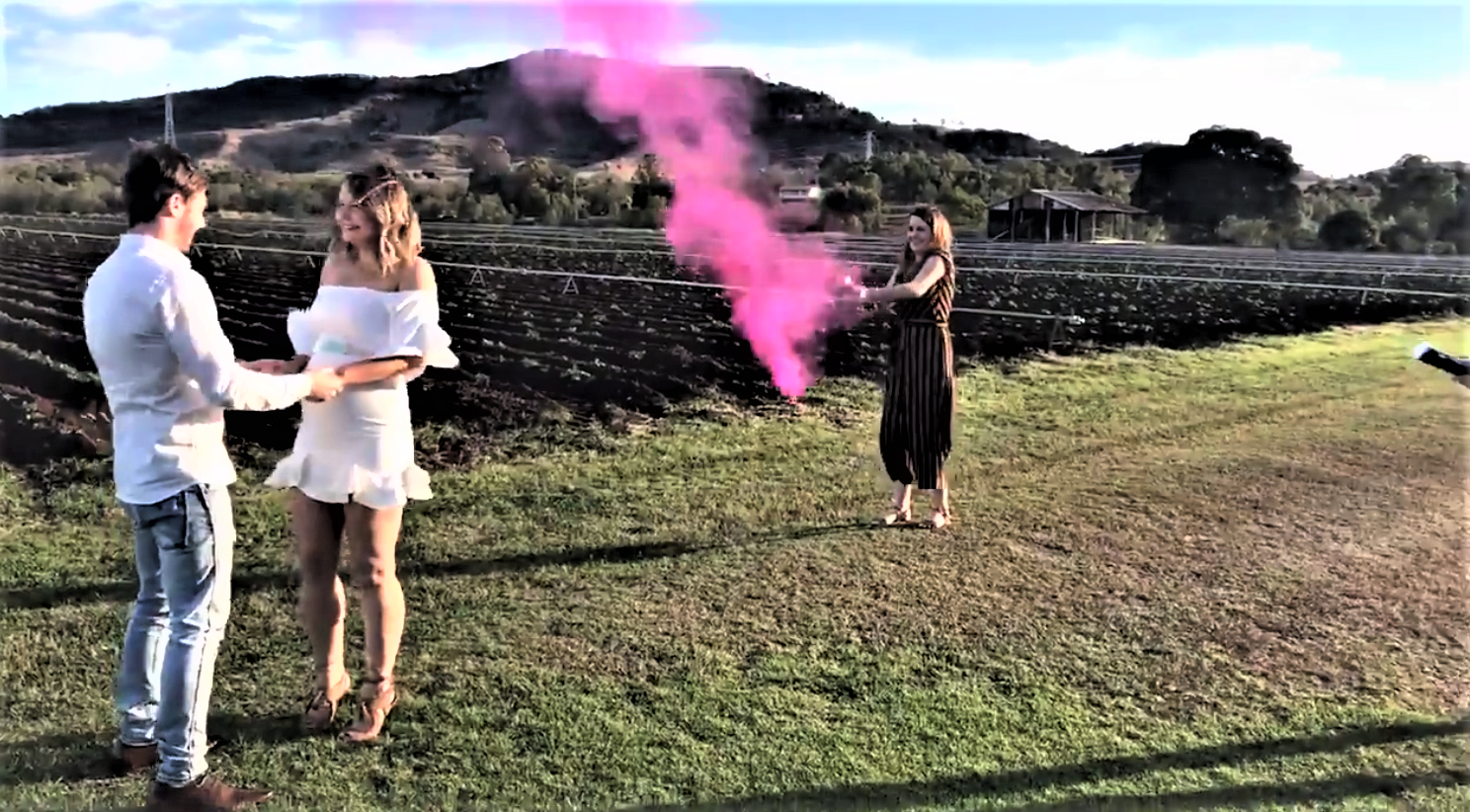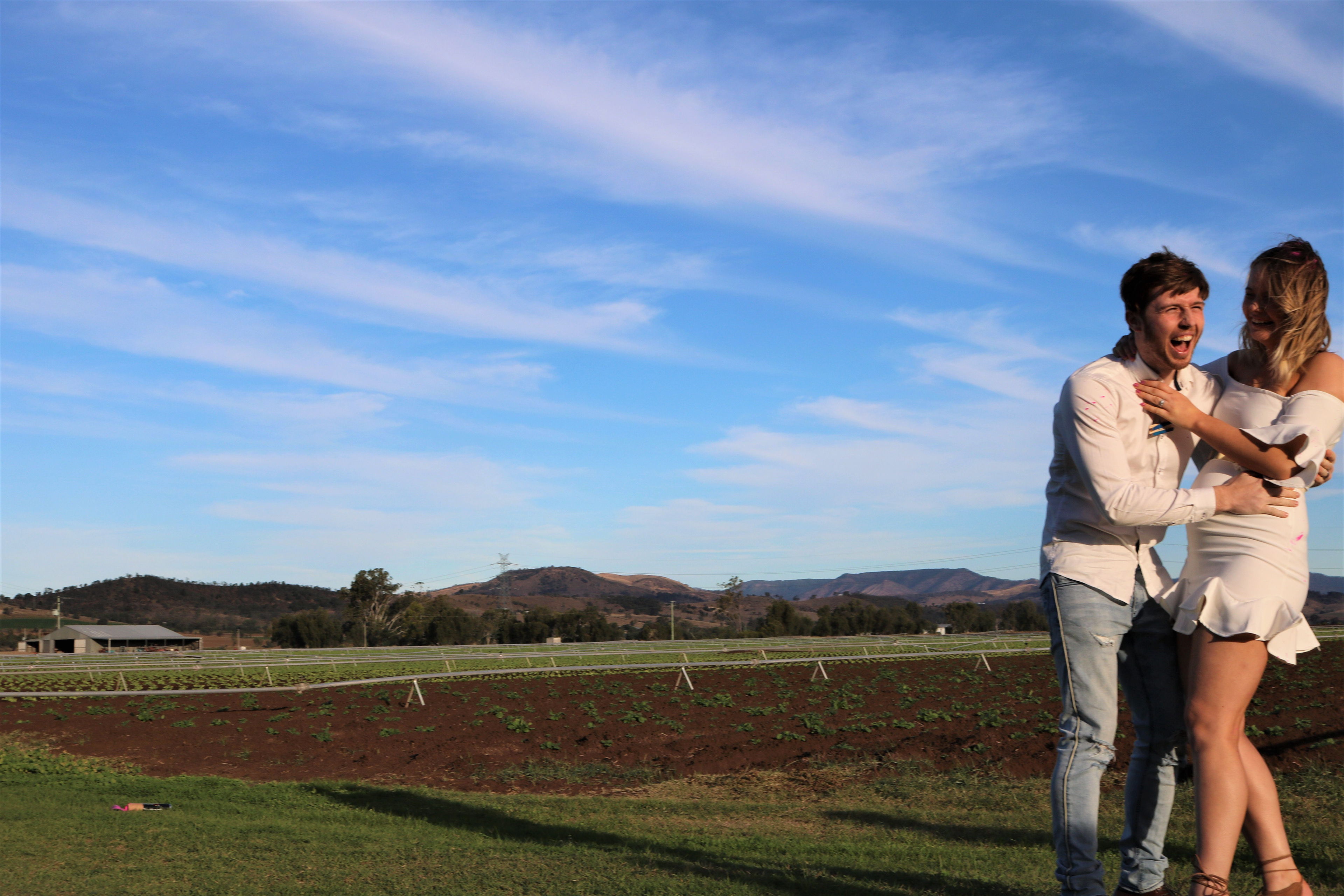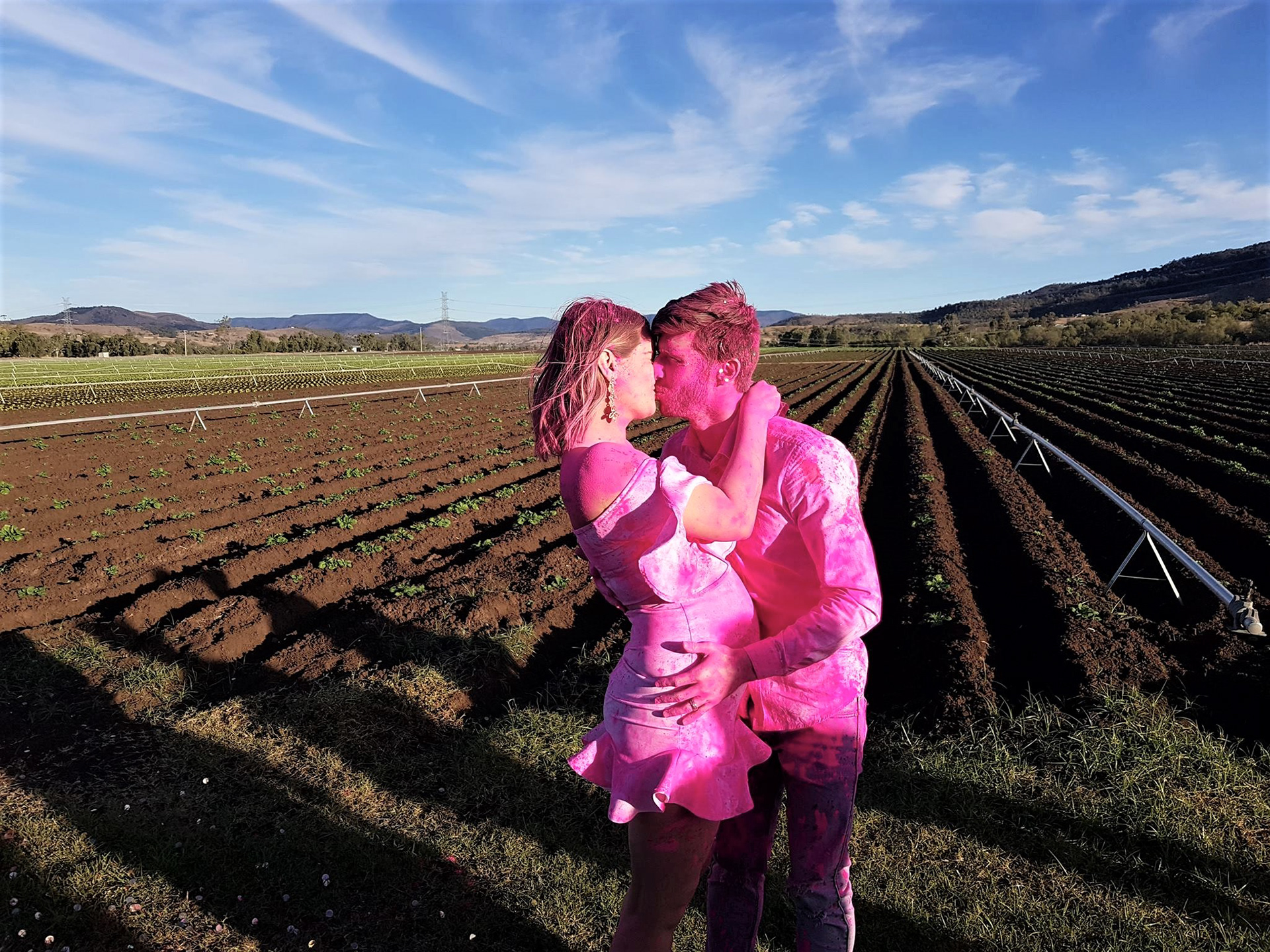 Our beautiful moment was quickly interrupted by an attack of colour and wetness. Our friends and family covered us with coloured powder and water spray before coating us with rose gold confetti. I gotta tell you, the powder reacted like glue with the water, and it took days to come off properly. I remember getting some in our mouths and someone yelling "give Josh a kiss". It was so awkward, we both had pink cornflour-like substances all over and in our mouths. We shook off, cleaned up what we could and headed back in for a prayer of dedication to our baby girl. The godparents were announced and they stood with us. Then we cut the cake.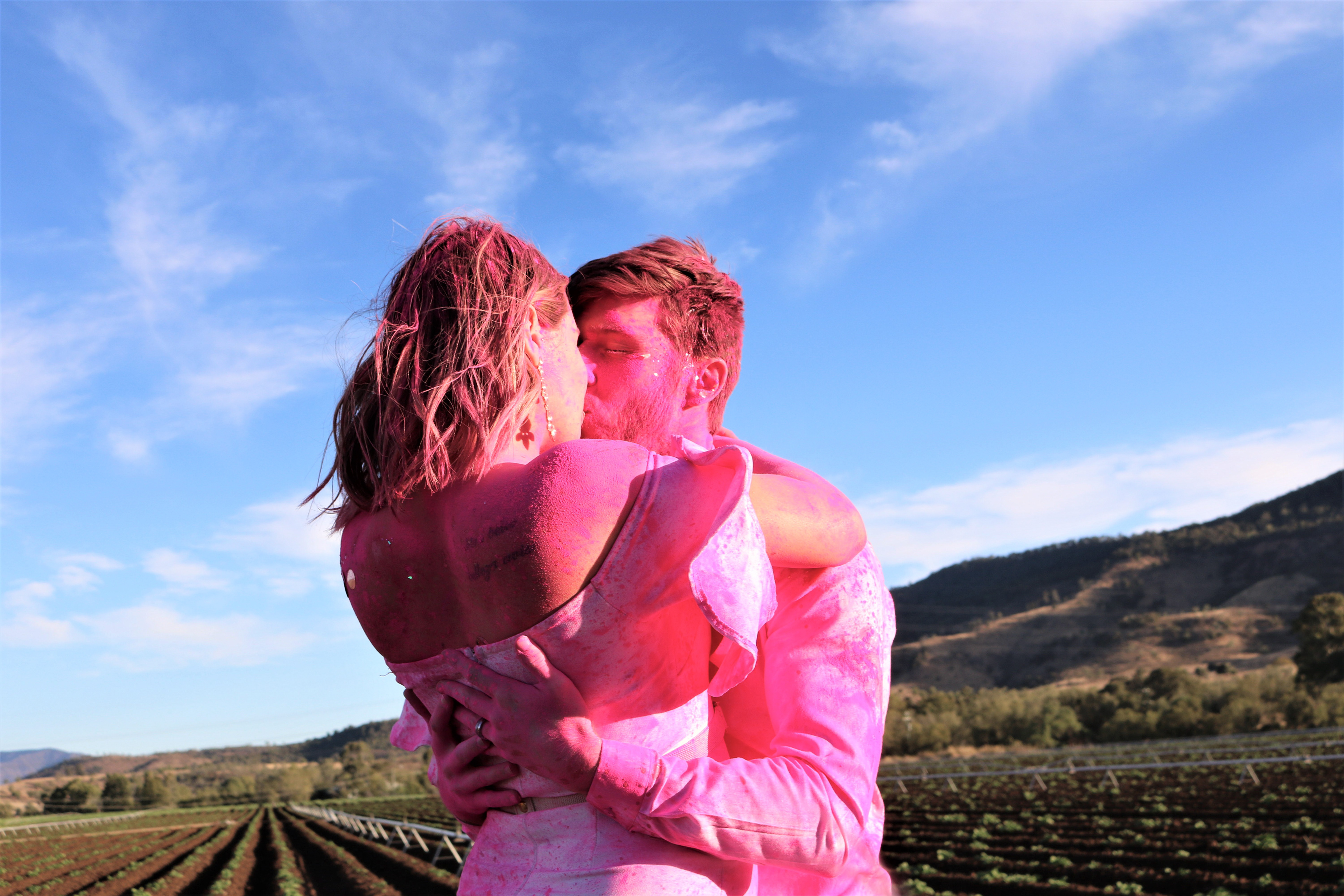 Oh, the cake definitely needs its own paragraph. The cake was amazing, I think I preferred this cake over our wedding cake. My sister, Rachel, made it! It was blue, rose gold and white. It was three tiers high and decorated with flowers. It caught my eye the second I walked in. She is so talented. It's the sort of thing you look at and just think, they must really love me if they spent all that time just for me.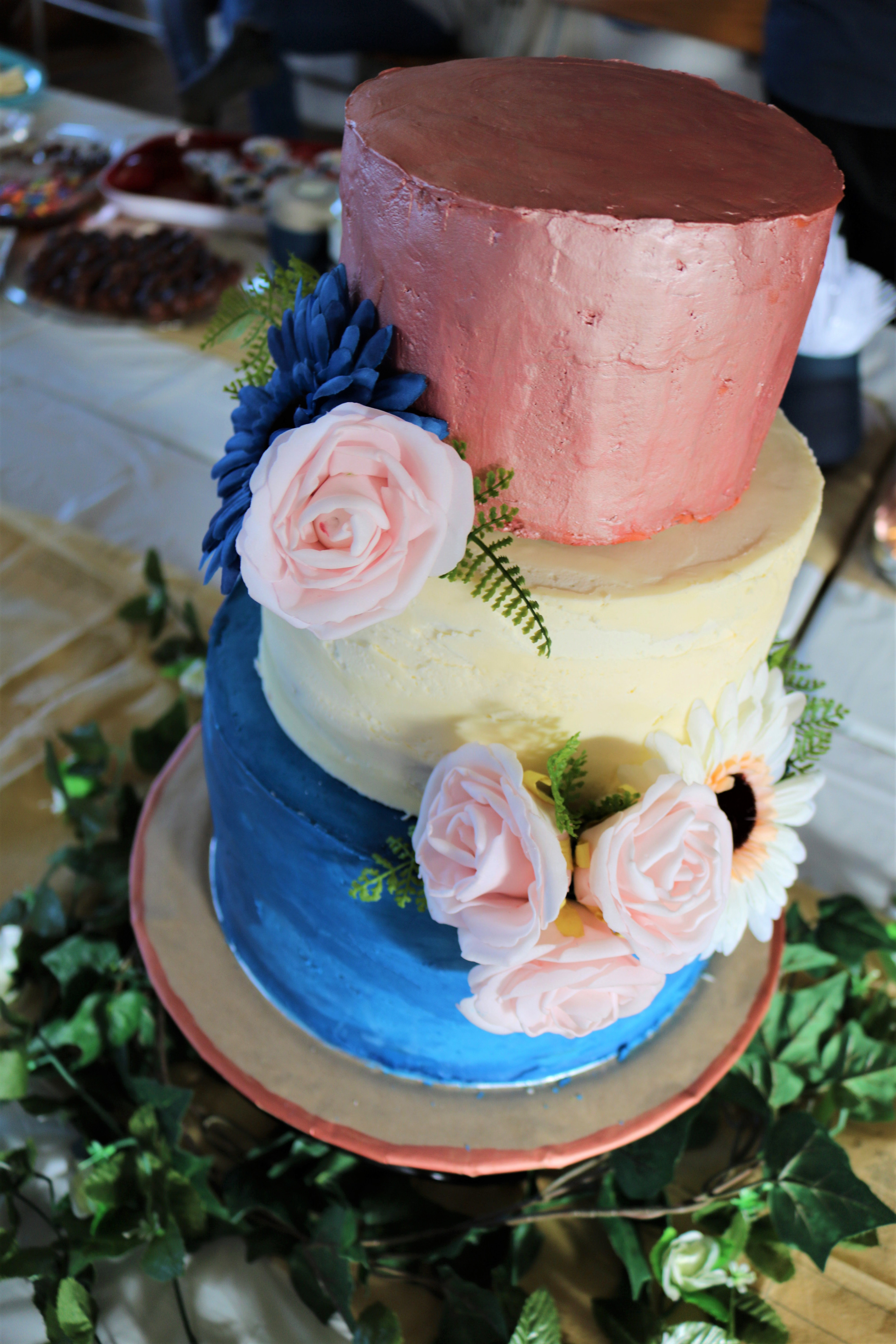 So many people helped set up for the party. Naomi, Rachel and Heath did so so much and so did Josh's family, my brother and his wife and my mum. Also my dad who paid for the cake, and Tenthill Baptist for letting us use their hall. If any of you are reading this blog... thank you for making the whole day so very special to both of us.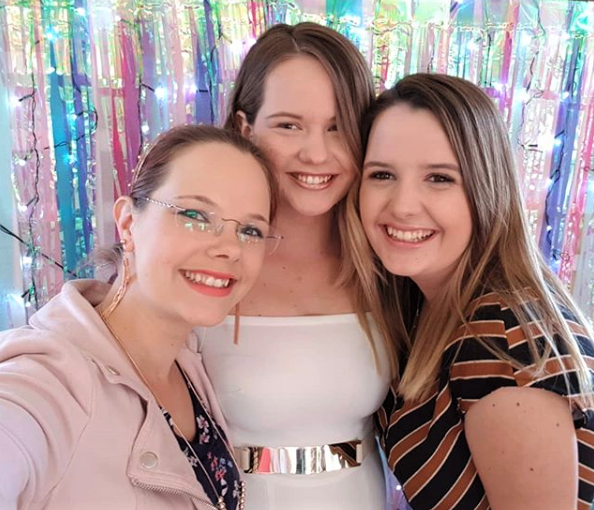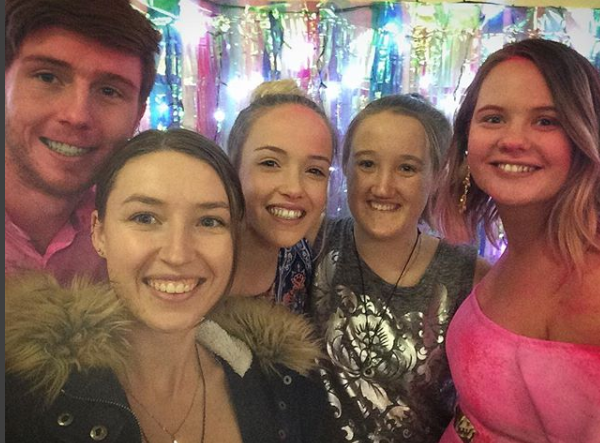 After a lot of packing up, we headed over to Josh's family's house for some relaxation with old friends and his wonderful family. I missed them all so much, and I can't wait to see them all again soon. Life is not about the party, its about the journey. But this party that lasted all of 4 hours is going to be in my memory for a life time. Our baby wasn't any less real before than she is now... but she feels more real to us, and now she has a name.
The name we have chosen for our beautiful little girl is; "Elle". Which means "she". The rest of her life is up to her to determine who she is. She is loved. She is precious. She is beautiful. Elle is....
Josh and I can't wait to hold this beautiful little girl and smother her with our love and kisses. 
Thanks for reading
XX