Okay so my number one tip for having a totally awesome road trip is to let it be spontaneous! Whether that's like us going all out unplanned or just leaving the finer details unplanned. When it comes to roadtripping there will be certain detours you'll want to make and it's not something that can be confined to a schedule. 
I went on this roadtrip in January however the weather was not ideal. It was windy and rainy. But it was a very last minute decision to go at all. It just so happened that my sister was visiting on the same week that Josh and I had both been given 4 days off. Not asked for, just happened because #shiftwork. 
Our rough plan was to get as far as we could along the Great Ocean Road and then turn around. Our first stop was the Tantanoola Caves. This one was thanks to me being the driver because the other two felt really tired and wanted to power on to the campsite. But this place was epic.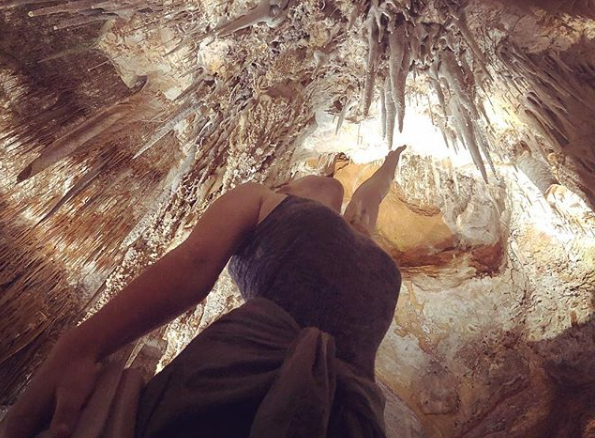 We were too late for a tour but after a bit of pleading he let us through anyway. I'm so glad he did because it was breathtaking. It's not so often that you get to witness God's awesome creation in this way. It was just because it was different. One centimetre of these limestone crystals takes 80 years to develop. And we saw a whole cave of them! If you're heading down this direction definitely worth a stop. From memory it was $5 entry.
After that short stop we powered onto Robe. I had heard about Robe as being one of the most fantastic and beautiful beaches in South Australia. This place had a lot of massive rocks. It was fun going for a walk and checking out the cliff faces. But due to the weather I wouldn't say it was more beautiful than Henley Beach. Still it was on the way and it gave us a place to camp that night.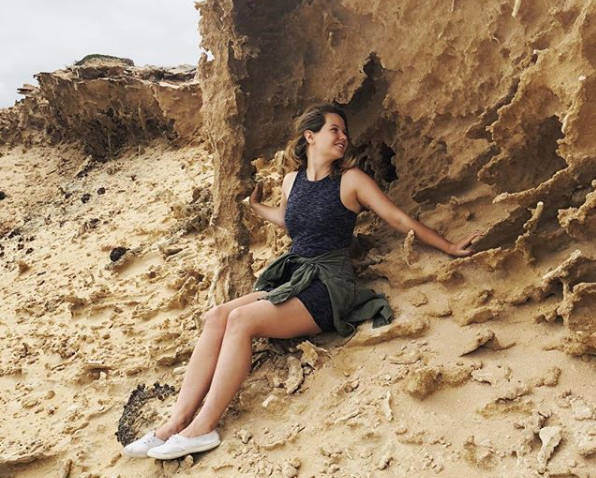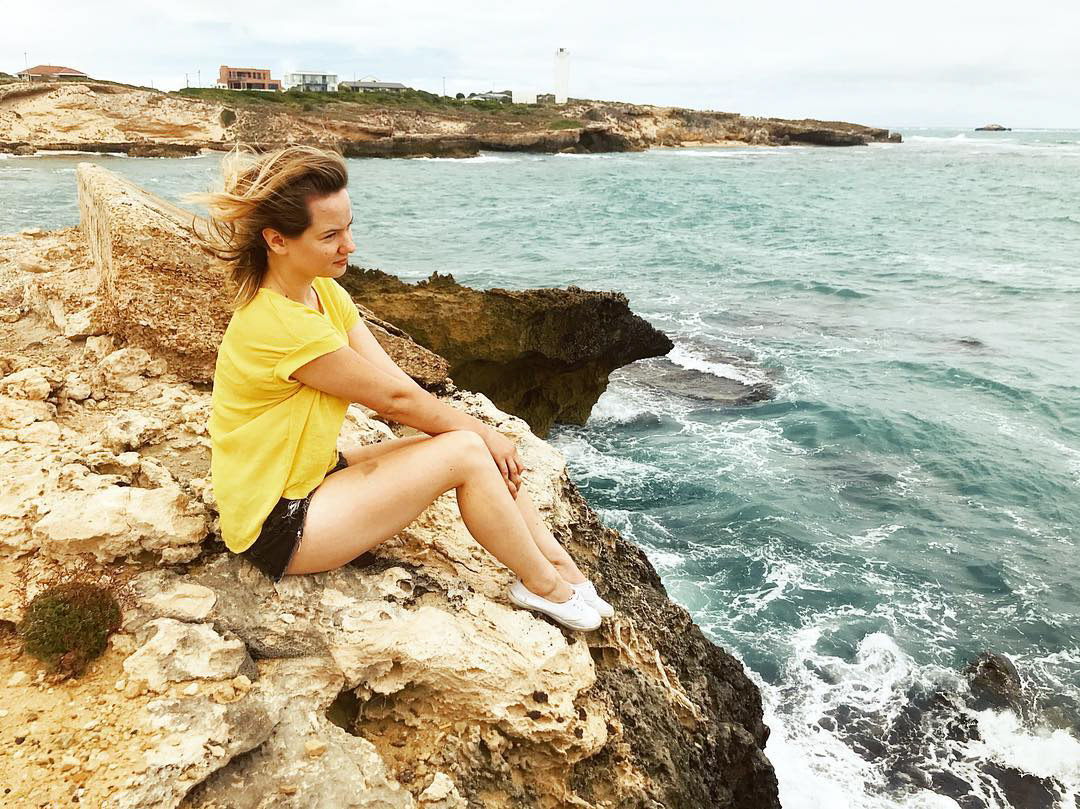 I didn't get a chance to have a surf either and I was soo bummed but I couldn't see anyone else out and the water was so fierce. Probably best to avoid it since I didn't know the area well enough. 
We thought we'd be able to rock up to any campsite but we were sadly mistaken. We had forgotten that it was Australia Day weekend. So we ended up grabbing take away and setting up camp in a super remote, all nature camp site. Unpacking the tent we realised I'd packed the wrong one and it was the one without poles! Lucky Josh was able to make it work with the back of the boot and the wind screen wipers. However the next morning we bought a tent and Josh was covered with mozzie bites. But for me... it's all part of the experience!

We powered on another couple of hours and reached Mt Gambier. This was our last stop in South Australia before entering Victoria. Mt Gambier is the second largest town in South Australia, even though the population is only just over 20,000 residents. I was keen to see this place as it's known for a giant blue lake. We had some trouble finding this place though. The lake is only viewable from a few platforms and google maps will not help you find these. But this place was incredible.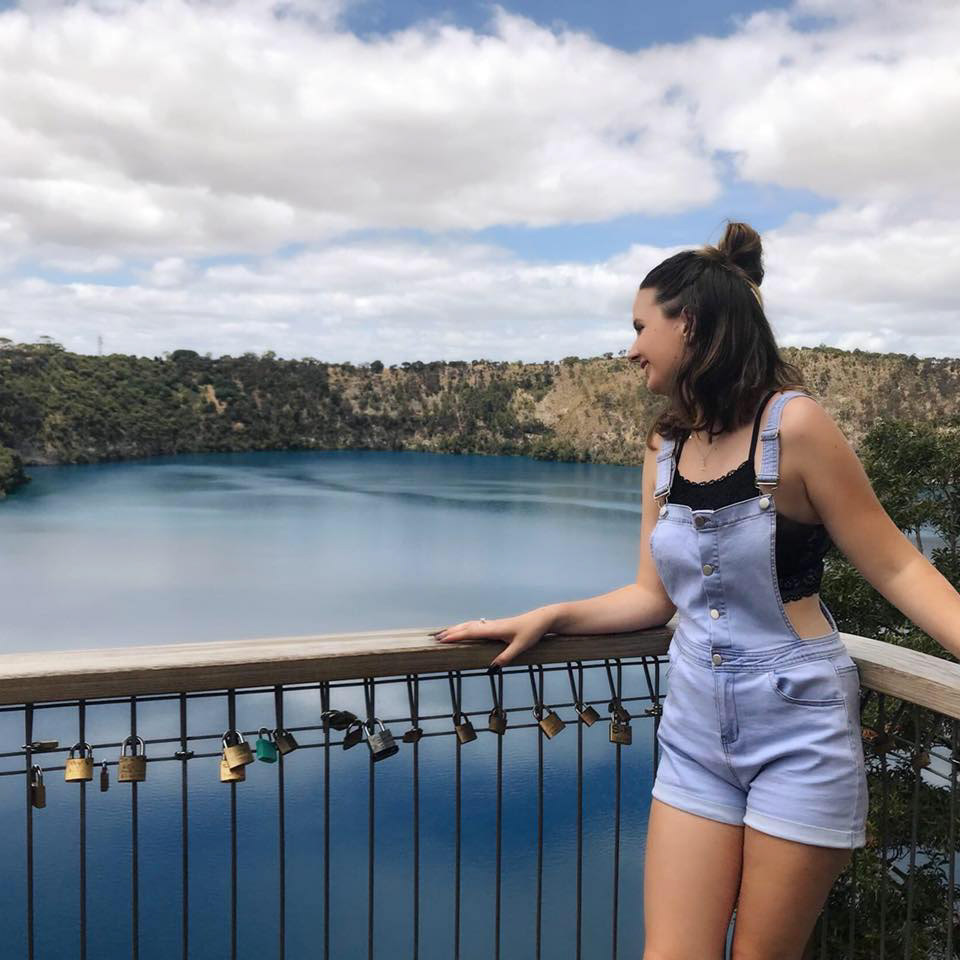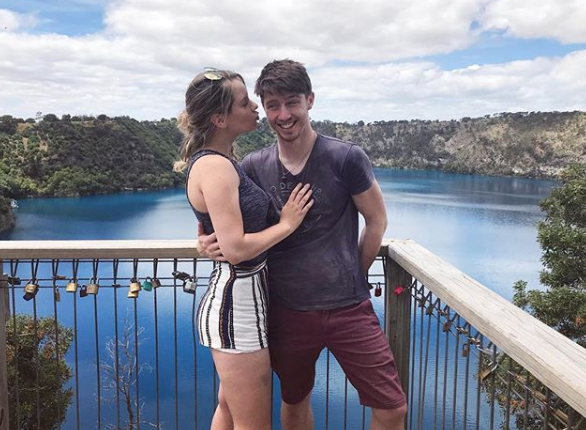 The photos above don't have any colour editing. That lake is THAT blue. It's due to the limestone. It's basically on the top of an old erupted volcano. This place was fantastic, I just wish we could have swam there.
Also in this little town was a huge sink hole. I didn't even know what that was until I saw it. It's a huge hole in the ground that the council has made into an amazing garden. It was really cute. We actually went there twice.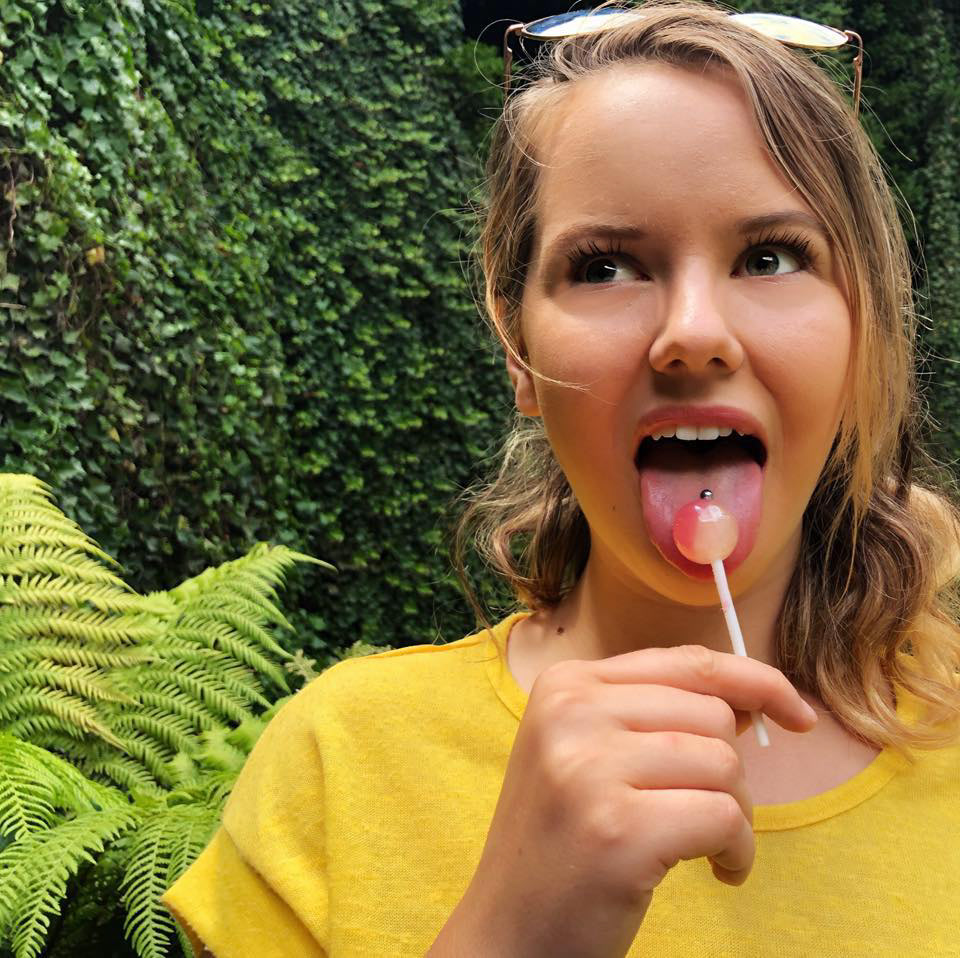 We camped the night and left the next morning. Our car broke down. We weren't RAA members at the time so we asked some locals to give us a jumpstart and we were on our way towards the 12 Apostles. We made it there around 4pm so we only had an hour to enjoy this place. Which was annoying because I've wanted to see this place my whole life. And let me just tell you... an hour is not enough to just stand and stare at this incredible place. But we got to see the sun setting over the beautiful limestone cliffs and it was spectacular!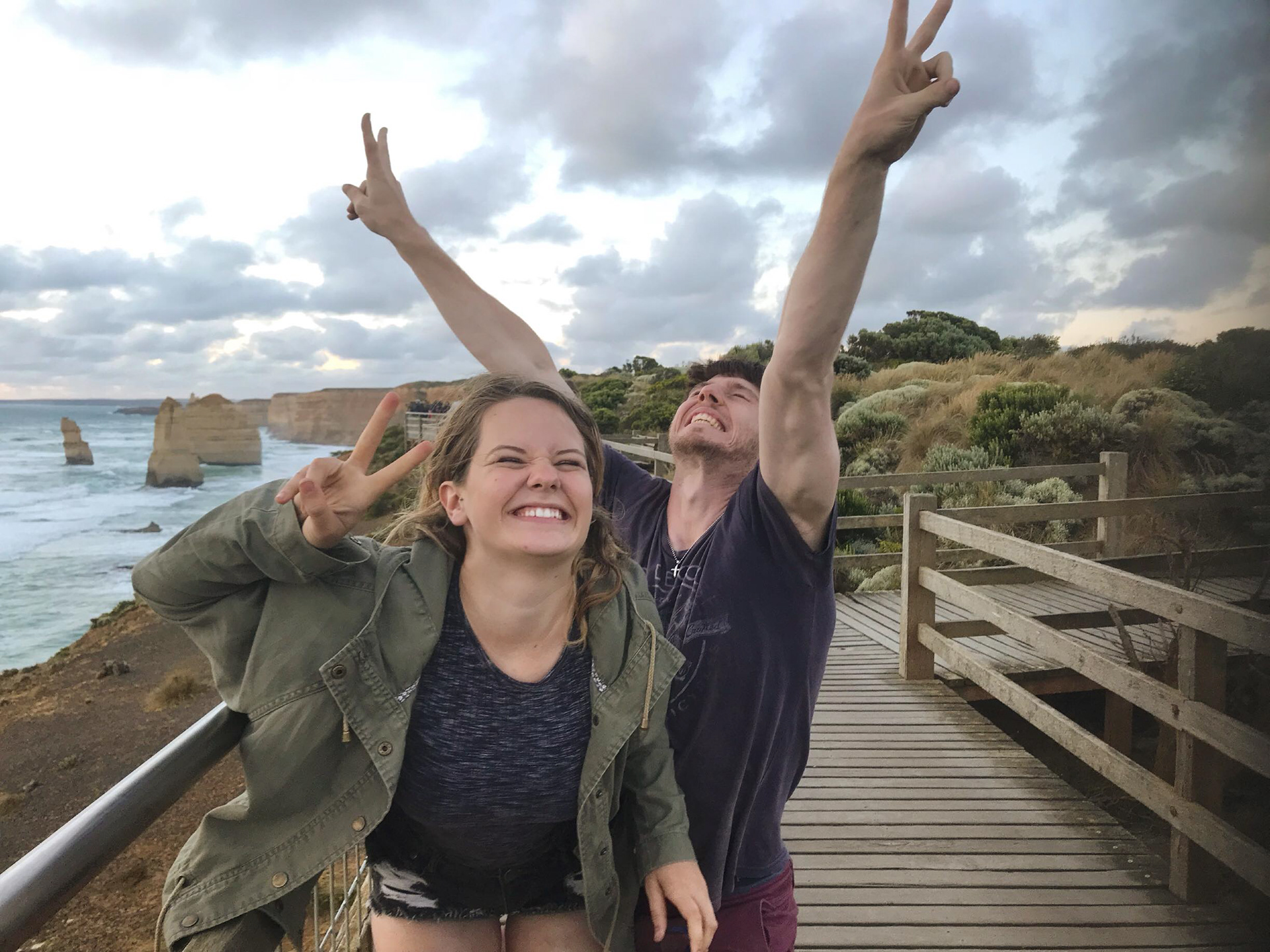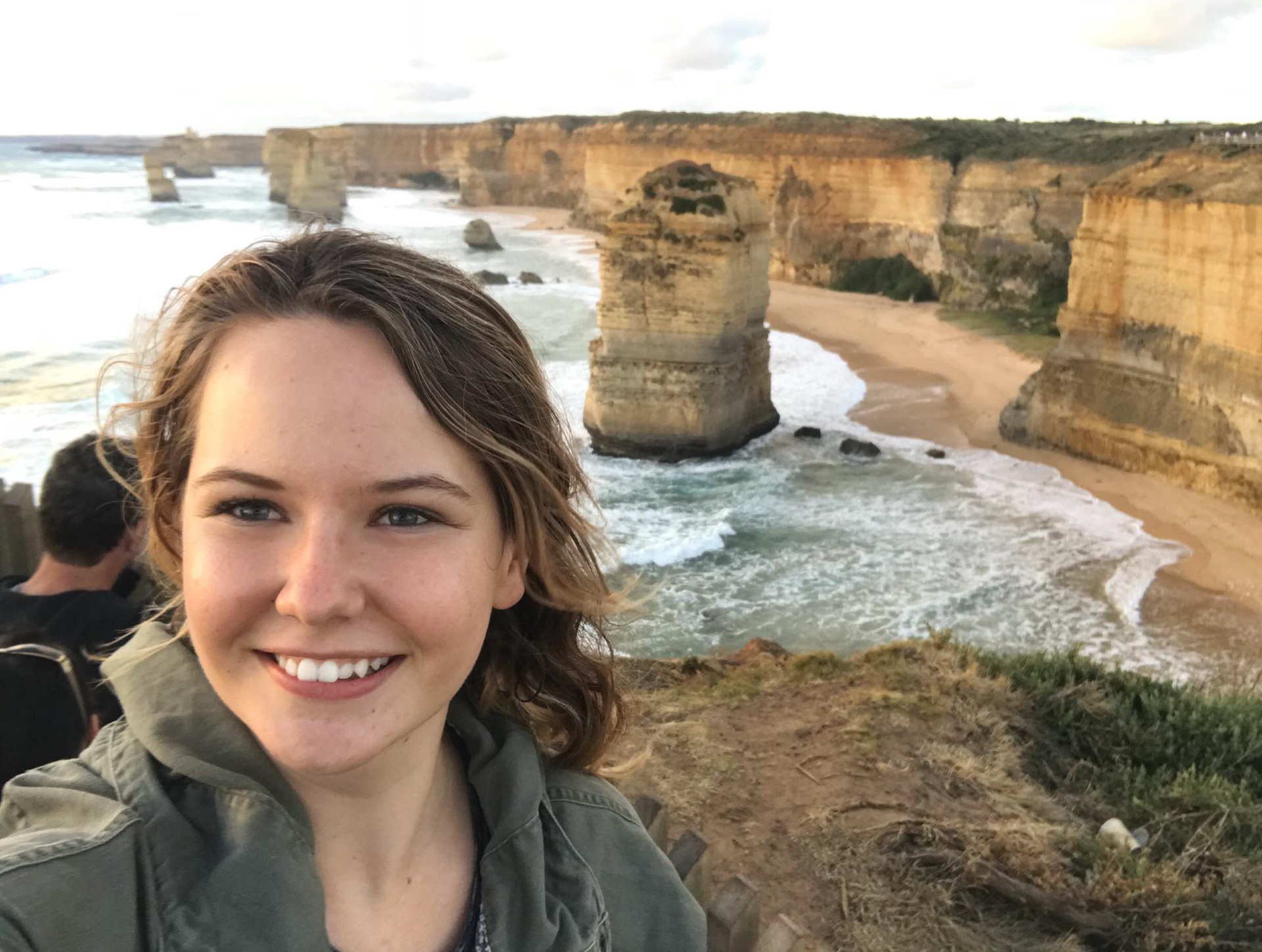 On our way back our car broke down again! This put us behind schedule. But again we got a jump start from someone touring in a van. However this time we figured something was really wrong with the car because it hardly drove. We dodged pot holes and turned off the radio, charger and air conditioner. Turning on the headlights were enough to make it bump. I thought it was hilarious and part of the journey. However Josh and Naomi were not quite as happy about it. We hadn't organised accommodation but we knew as soon as the engine was off that it wouldn't start again. So we parked around the back of a hostel. Surely enough the car didn't start. We had the dog with us so we couldn't all sleep at the hostel and all the campsites were fully booked. 
So after grabbing some dinner and discovering the hostel was also booked we all slept in the little car. I don't know what it is about lack of sleep that makes me feel so adventurous but the next morning when we all had zero charge on our phones, stiff necks and growling stomachs I woke up at 6am and said "lets fix the car and go back up the Ocean Road". The others were less than thrilled to be woken up. So I got them coffee! Still not thrilled. So I went for a walk by myself. 
I didn't take any photos of this town but it was so beautiful. Some things are just meant for you. Some moments are too good to take photos and are just yours. This was like that. After a long time the others woke up. We went to the fuel station and got a jump and went on our way to the mechanics. But we didn't make it that far! We broke down and this time the battery fluid had leeked everywhere. We were lucky the engine didn't blow up. 
So Naomi ventured off to some random farmers house to use their toilet. Josh hitchhiked to the mechanics and I stayed with the dog in the car. I was still the only one in a good mood. But not too much later the mechanic comes up and gives us a temporary battery to get down the hill. He tells us he'll be a couple hours so we went op shopping in this tiny town. Josh bought this awesome antique camera for only $25. Then we went to the pub and shared lunch. When the car was fixed (and $400 later) the others were ready to just go home. 
I honestly don't know HOW I convinced these two hungry, grumpy, tired and irritated passangers to go back and see the 12 Apostles again. But somehow I did it and we went back! This time we spent more time and we went down to the beach not just the platform. We took some photos, dunked Naomi in the water and had a blast.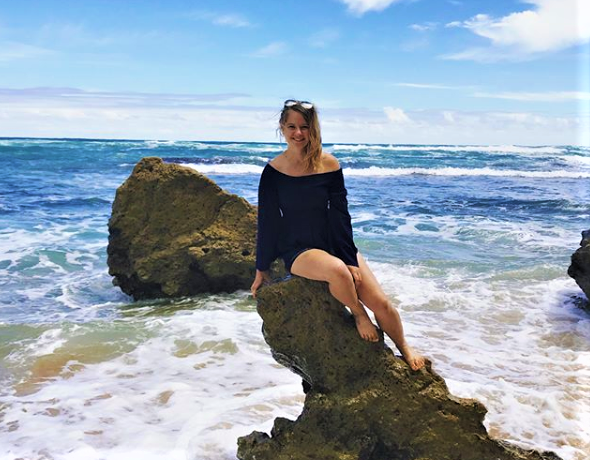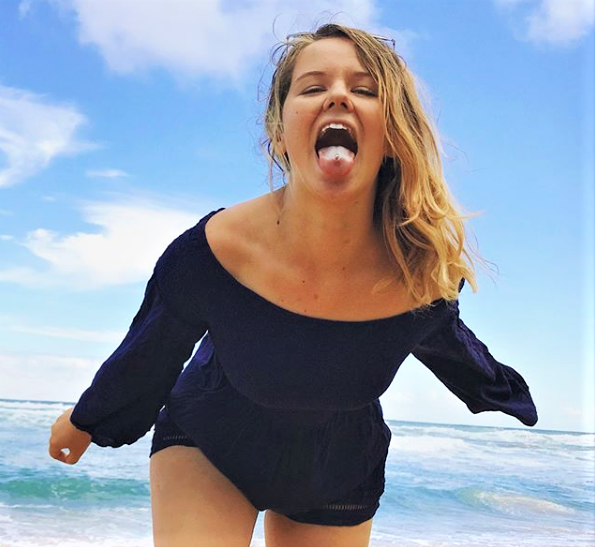 There's a reason this place is one of the Wonders. It's one of those places that was so breathtaking... like taking my breath away literally. The whole journey was incredible and I want to go back! (Josh not quite so keen). But the memory is going to stick with me forever. The car broke down multiple times, we paid a huge amount for a battery, we slept in the car or the tent and we were all covered in mozzie bites. But I would do it all again because of the experience. It is indescribably brilliant. Definitely something for the bucket list.
We stopped a few other places along the Great Ocean Road on the way back. But parking was so busy at times we didn't bother. So quick tip: don't go on a public holiday, it's so busy.
The whole experience was amazing. Spending time together in nature always bring people closer. And I can't wait to go back there. 
Thanks for reading, hope you all make it there sometime. xx