"OMG Babbbeee.... we just bought a business!", was quite possibly the statement of the year in this little family of ours.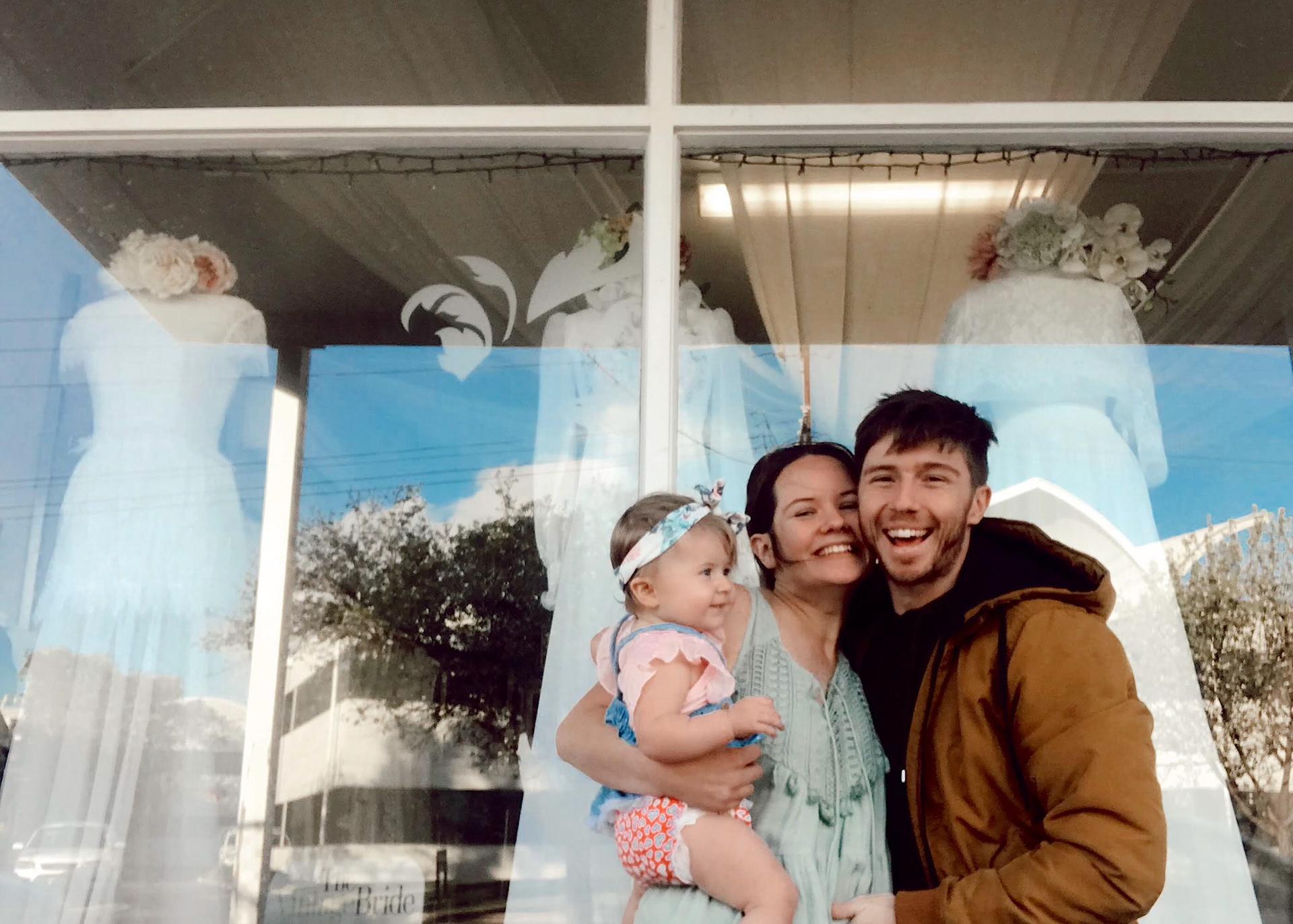 We wanted it to come as a surprise to most people, but to us it felt like the next natural step. Our dreams haven't ever been centered around "the white picket fence"... although that'll eventually happen. Both Josh and I have always been "doing" people. We like to set ourselves up on paths which lead to success... getting married, moving interstate, saving money and most importantly university (soon to be 6 years of it) are all things which we have both loved. So when opportunities come our way and they seem right, we don't consider if it is in our "life plan"... we just decide if it's right for us and if it is... we do it. The purchase of our little shop was exactly that.
Now I had always imagined myself one day creating a bridal label on the side while being a mum to our desired number of 3 children and also pushing for a career as a criminal prosecutor. So as much as this opportunity did just "pop up" working in the bridal industry has always been something I've considered.
 I've always had this need to be both academic and creative. It used to annoy me that I couldn't focus on just one, but I have since grown to love it and work at finding ways to feed both sides. This blog kept me going while I was in full time study mode because too much brains and not enough expression would drive me nuts otherwise. This blog is one of a couple creative expressions I have. I've always had to have my foot in both doors.... which is what lead us to buying the shop.
Josh and I decided to have a "flipping challenge" we both got $500 and we weren't allowed to invest it, we had to use it to buy and sell for a profit anything we wanted. We had 3 months and at the end of that whoever made more profit got to spend all the money. I really wanted a kayak and Josh wanted camera lenses. So hence the competition. While Josh went to op shops and bought mugs or random unique things that he figured people would buy... I op shopped wedding dresses. I bought 13 dresses with my $500... meaning if I could sell them for even $50 I'd make a profit. But this got me thinking because some of these gowns were actually so beautiful and really well kept. 'What if I made this a market?' Most of them were pre-loved, but some were more vintage and I thought, 'what if I did a vintage thing'. So the first thing I did was search up vintage bridal in Adelaide to see if the market already existed and...  it did. So I started following "The Vintage Bride Boutique" on Instagram and found out that the owner was selling her business.
Everything sort of just dominoed from there. At first I thought nothing of it, just that I might have a better chance selling my dresses with a competitor weakened... but then over weeks and weeks it just kept coming back into my mind. One day I emailed the owner for more info. I read it, then Josh read it, we went in to meet the owner, we saw the shop, asked HEAPS of questions, and we just couldn't find a reason not to. Sooo.... we did it. 
We bought a business!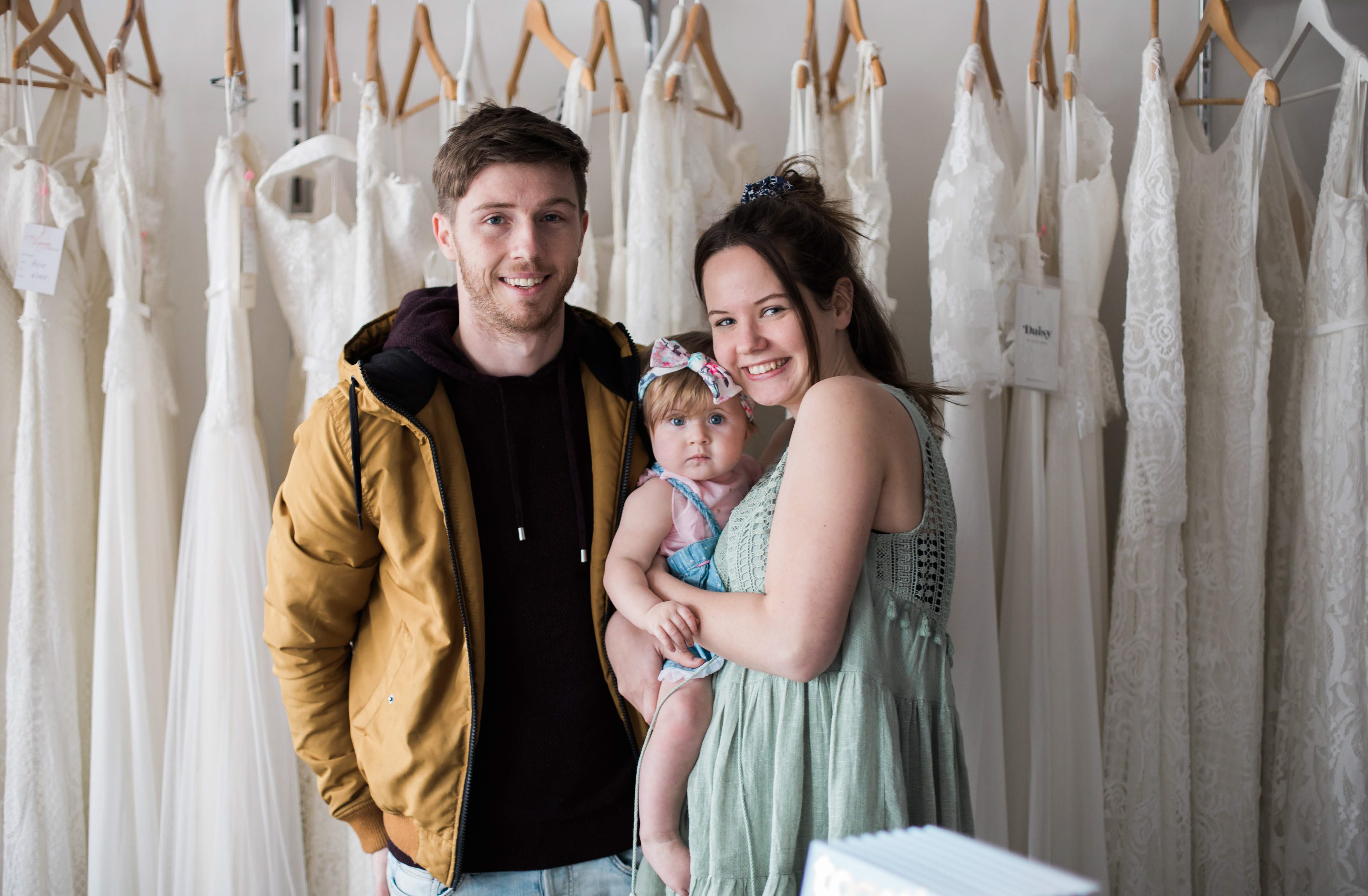 I love our little boutique, we spent weeks changing things, redecorating and cleaning to make it more "us". We've since had new racks put up and new dresses come in. We have some incredible friends who have helped us get everything ready.
We've been so busy changing the website, working on marketing strategies, setting up trunk shows for 2020, modelling shoots, networking, re-tagging, restoring, advertising etc.... the list goes on.
 It's been quiet to start. We knew it wouldn't be immediate smooth sailing. We've been prepared for it to be slower at first and take hard work to set everything up. I have learned a lot about how things work in the industry and there's still so much more to learn. We think it has amazing potential if we stick at it, nothing comes without hard work and we know that! 
4 days of the week I go in to the shop with Elle and I absolutely love it. Elle has her toys to play with and loves walking around and peeping out the windows and playing with the clutches we have for sale. We are so fortunate that she has such a beautiful demeanor, she makes it easy to adjust. The shop has a little kitchenette area and Elle has a little teepee tent cubby area where she naps during the day. She's such a little monkey and makes work so fun. I love that I can make money and still be a stay at home mum (or more accurately "go out mum"). Being a mum is the most important thing to me, it's the best part of my life, and having the shop allows me to pursue so many parts of my life at once.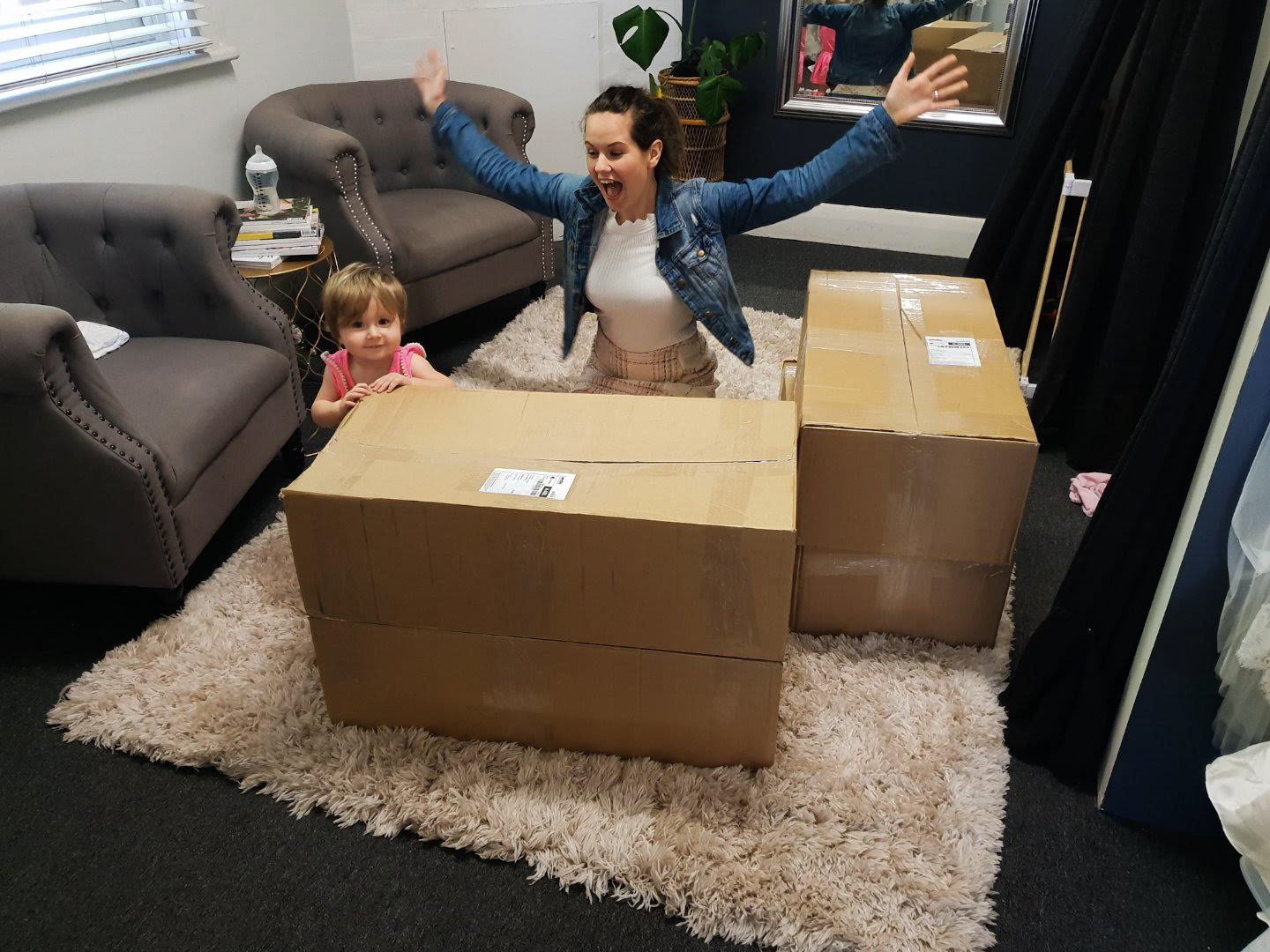 It has been a crazy ride so far but we LOVE it. If you had have told me at the start of this year, or even half way through this year where we'd be now... I would have straight laughed in your face and said "yeah maybe in 5 years time". I had NO idea that God had this plan for our lives. But the way I see it, if we truly work hard, then that white picket fence, 3 kids, 2 dogs (and maybe a cute car) can come a little sooner now that we have our little bridal boutique.

Thanks for reading,
Xx
P.S. If you'd like to support us on our journey we'd love if you could like or follow our socials, and tell your friends about the shop :)